In the lobby of the Douglas County Judicial and Law Enforcement Center, a new metal detector stands ready.
It will be functioning later this week, sheriff's office officials say, but when functional, the new detector will make strides toward adding the security the state says many Kansas courthouses need.
State leaders say county courthouse security in Kansas lacks specific standards and policies, creating security problems for judges, probation officers and others inside courts. An audit is being done of all courthouse facilities.
"Standards are going to be created specific to Kansas," Kansas judicial branch spokesman Ron Keefover said of the audit.
The state project began in July after the National Center for State Courts conducted an informal audit of Kansas courts last April showing several security incidents that required heightened security. Among them:
¢ Seven districts reported bomb threats to courthouses or court offices.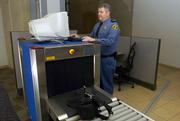 ¢ Six districts reported threats to kill or injure judges, probation officers (whose offices are located in some courthouses) and other court staff.
¢ One district reported a defendant had pulled a knife during a probation-revocation hearing.
¢ One district reported that a mentally ill person threatened the lives of a judge and a probation officer, triggering a criminal investigation.
"Any security incidents point toward the need to have a more systematic study or audit," Keefover said.
In Douglas County, the new metal detector/X-ray machine should help stop weapons from entering the court.
According to the document, the need for the security standards exists especially in older or more rural courthouses that may not be equipped to deal with threats.
In some rural districts such as the Fourth District, which includes Franklin County, threats from the weather and people can create problems. The state doesn't have a system for storing floor plans and other disaster-related documents, which could hamper security response when problems arise, the proposal said.
Franklin County Sheriff Craig Davis said that he feels comfortable with the level of security at the courthouse now. There is a metal detector and staff on-site, but Davis said there was always room for improvement when trying to avoid incidents.
To help prevent incidents such as those listed in the proposal, the audit will create standards by interviewing officials and reviewing county security and disaster preparedness documents, the proposal shows.
The consultant will then meet with court officials for a workshop to decide on the standards.
Keefover said that the consultant will then take recommendations to the Kansas Supreme Court, which will ultimately approve any list of standards.
The consultant, the workshop and other expenses will be paid with an $85,000 grant, plus in-kind matching funds, Keefover said.
The standards won't be a mandate, Keefover said, and both he and the proposal insist that officials from the 31 judicial districts won't be obligated to adhere to them.
Franklin County Commissioner Don Waymire said that he didn't think the county's security was too far off from where it should be, but said that he would be open to hearing what the state has to say.
If it's a mandate passed by the Legislature, Waymire said the commission would do everything it could to abide by it.
Standards are different though, he said. Without knowing what the evaluation process will entail or how much money the budget will allow for improvements, he said the county would likely view the state's standards as recommendations.
"If it's just a suggestion, and funds weren't available, I can't see us getting too excited about it," Waymire said.
Copyright 2018 The Lawrence Journal-World. All rights reserved. This material may not be published, broadcast, rewritten or redistributed. We strive to uphold our values for every story published.