It's big, it's bulky and it's wrapped in blue plastic shrink-wrap.
A new, $30,000 X-ray machine - paid for with a U.S. Homeland Security grant - has arrived in Douglas County. On Friday, sheriff's deputies brought the machine temporarily into the front hallway of the Judicial and Law Enforcement Center, 111 E. 11th St., to take a look at how they might situate it.
But the bigger question remaining is exactly how the sheriff's office will assign its deputies to operate the machine and an accompanying metal detector.
"We still need to work out who's going to run it, how we're going to hire people and who we're going to hire," said Lt. Robin Moore, who oversees court security.
The Douglas County Commission this week is expected to finalize a $105,000 addition to the sheriff's annual budget to help pay for the extra deputies required to run the machines. That money will pay for about two deputies' annual salaries and benefits, but county leaders say the actual costs of keeping deputies posted at the machines will be much more.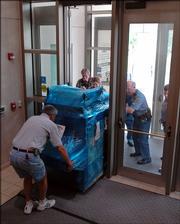 Last month, Sheriff Ken McGovern gave the commission two proposals for staffing the machines. One called for hiring four new deputies at a total estimated cost of $214,788, and another called for six part-time deputies and one full-time deputy for an estimated $222,543.
"We basically arrived at a compromise where the County Commission agreed to provide some of the additional resources to start that operation," County Administrator Craig Weinaug said. "(McGovern) is having to draw on some existing resources of what he's having his officers do now."
County Commissioner Jere McElhaney was the only one of three commissioners who voted against the new money. He said he thinks the widespread availability of homeland security grants is causing local governments to buy new equipment without thinking of the operating costs.
"All of a sudden, the X-ray machine is showing up, and now we need to have people to run it," he said.
Law enforcement leaders have said for years that the courthouse needs better security. Others have opposed it, saying that adding a checkpoint could make people feel unwelcome at the courthouse and would keep them from observing the judicial system in action.
Undersheriff Steve Hornberger said he's sensitive to those concerns.
"Obviously, we don't want people to feel like the law enforcement center is not an area they're welcome to, because they are," he said.
Copyright 2018 The Lawrence Journal-World. All rights reserved. This material may not be published, broadcast, rewritten or redistributed. We strive to uphold our values for every story published.