Topeka — Hollywood has featured Kansans for decades in westerns.
With guns blazing, people dying, cowboys singing and women swooning, not everything has been accurate.
But for many Americans, those movies and early TV westerns define Kansas' image.
"A lot of the movies are not real good as history goes," said Blair Tarr, curator of decorative arts for the Kansas State Historical Society. "It tends to be inaccurate. If you try teaching history by Kansas movies, every child gets left behind."
That's one reason the historical society has opened a special exhibit: "Blazing Guns & Rugged Heroes: Kansas in the Westerns." It runs through Sept. 30 at the Kansas Museum of History in Topeka and features more than 45 examples of popular westerns, along with 200 movie posters.
Cynthia Haines of Lawrence donated the posters. Before moving to Kansas in 2003, she was an associate professor of film studies at the University of Texas at El Paso. She now serves on a state committee to promote the film industry in Kansas.
"When I first started collecting these posters I saw boulders, pine trees and a variety of landscape that was obvious none of it had been shot in Kansas," Haines said. "We want to encourage more film making in the area so that there are more stories set in Kansas and shot in Kansas."
The exhibit, more than a year in the making, features movies and 1950s TV shows that either are supposed to take place in Kansas or feature Kansas characters.
As Laura Vannorsdel, museum curator for the historical society, explains it: "This isn't your typical textbook history."
Visitors to the exhibit will see Kansas towns as portrayed by Hollywood posters: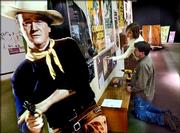 ¢ A poster for the movie "Wichita" reads: "Gateway to the West, Doorway to Hell!"
¢ The "Gunfight in Abilene" poster reads: "Only his guns and his guts could stop Abilene from erupting into a range war!"
¢ "Dodge City" promises plenty of mayhem: "West of Chicago, There was no Law - West of Dodge City, no God!"
Exhibit visitors will learn about Kansas actors such as:
¢ Reb Russell, who left Kansas as a teenager and became an All-American football star in college. He made 10 western films in the 1930s, including "Blazing Guns" and "Lightning Triggers."
¢ Jess Willard, who became a popular star of Wild West shows after winning the world heavyweight boxing title of 1915.
¢ Vera Miles, who starred with Joel McCrea in the movie "Wichita." She won the Miss Wichita and Miss Kansas pageants in 1948.
¢ Milburn Stone, who for 20 years portrayed Doc Adams in "Gunsmoke." Stone was born in Burrton and achieved fame in Broadway in "The Jayhawkers."
Visitors also will see Hollywood's version of cowboys. Highlights of the exhibit include a traditional cowboy hat, shirt and pipe used by Hollywood cowboy star Tex Ritter; shirt and pants worn by Roy Rogers; and doors from the Long Branch Saloon from the "Gunsmoke" set.
The exhibit also features artifacts from real Kansas saloons and gambling houses, including a roulette wheel from Wichita, a jail key and handcuffs from Dodge City, and a profile on bad guy Henry Brown.
When the town of Caldwell hired Brown as its marshal in 1882, grateful citizens presented him with a Winchester rifle. Two years later, he used it to rob a bank in Medicine Lodge.
That's the sort of ending Hollywood would never come up with.
Copyright 2017 The Lawrence Journal-World. All rights reserved. This material may not be published, broadcast, rewritten or redistributed. We strive to uphold our values for every story published.