Washington — Citing broad gaps in U.S. intelligence, the Coast Guard raised concerns weeks ago that it could not determine whether a United Arab Emirates-based company seeking a stake in some U.S. port operations might support terrorist operations.
The disclosure came during a hearing Monday on Dubai-owned DP World's plans to assume significant operations at six leading U.S. ports. It also clouded whether the Bush administration's agreement to conduct an unusual investigation into the pending takeover's security risks would allay lawmakers' concerns.
The administration said the Coast Guard's concerns were raised during its review of the deal, which it approved Jan. 17, and that all those questions were resolved. London-based Peninsular & Oriental Steam Navigation Co. now handles the port operations.
"There are many intelligence gaps, concerning the potential for DPW or P&O; assets to support terrorist operations, that precludes an overall threat assessment" of the potential merger, an unclassified Coast Guard intelligence assessment said.
"The breadth of the intelligence gaps also infer potential unknown threats against a large number of potential vulnerabilities," said the half-page assessment. Officials said it was an unclassified excerpt from a larger document.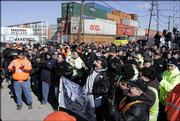 In a statement, the Coast Guard said the concerns reflected in the excerpt ultimately were addressed and that other U.S. intelligence agencies answered the questions raised.
The Coast Guard assessment raised questions about the security of the companies' operations, the backgrounds of people working for the companies, and whether other foreign countries influenced operations that affect security.
"We were never told about this and have no information about it," Michael Moore, DP World's senior vice president, said of the excerpt. However, he said it shows "serious and probing" questions were asked and that the initial approval of the deal indicates those questions were answered.
Sen. Susan Collins, chairwoman of the Senate Homeland Security Committee, released the excerpt at a briefing Monday. The Bush administration agreed Sunday to DP World's request for a 45-day investigation of the potential security risks related to the deal.
Copyright 2018 The Associated Press. All rights reserved. This material may not be published, broadcast, rewritten or redistributed. We strive to uphold our values for every story published.