Nashville, Tenn. — This just might be the role actor John Corbett was born to play.
Known for playing the handsome non-Greek boyfriend in "My Big Fat Greek Wedding," the philosophical radio DJ on "Northern Exposure" and Carrie's boyfriend on "Sex and the City," Corbett has taken a hiatus from acting to launch a music career.
His debut album - a collection of country-rock songs penned and performed by some of Nashville's finest talents - comes out April 4 on his own Fun Bone Records label.
With his long hair, boots and faded Bob Dylan T-shirt, the 6-foot-5-inch Corbett sure looked the part of aspiring country rocker during a recent interview. The only thing missing was the cowboy hat.
"I think it's been a big shock to people," he said. "They didn't know I'd be any good at it. A lot of people think I just picked up a guitar, took some lessons and started singing. But I think I'm a better singer and guitar player than actor."
Corbett, 43, has been playing music since he was a kid in Wheeling, W.Va. Back then, he played bass and sang songs by KISS, Styx, Rush and Cheap Trick in garage bands.
He'd always been around country music (his uncle owned a club where Buck Owens once performed), but didn't start really listening to it until the late 1980s, when artists such as Dwight Yoakam and Travis Tritt were bringing a rock sensibility to the genre.
A former steel-factory worker, he got into acting on a whim after he'd moved to California. He was attending college and decided to sit in on a friend's drama class.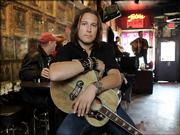 The experience led to college theater productions and TV commercials. He landed a guest spot in the popular series "The Wonder Years" and broke through with his role as the laid back, philosophy-spouting Chris Stevens in "Northern Exposure" in 1990.
He's appeared in many movies and TV shows since then, including HBO's cult fave "Sex and the City."
But he felt he was getting typecast as the nice guy love interest and grew disenchanted with Hollywood.
He reached a turning point in 2004 when he was invited to be a presenter at the Country Music Television awards.
Corbett decided he'd record an album. A couple of labels expressed interest, but he didn't get the offer he wanted and ended up digging into his own pocket.
The first single, "Good to Go," debuted at No. 48 on Billboard's country singles chart - the best showing by a new artist on an independent label in a long time.
"I think I'm making the kind of music Montgomery Gentry, Keith Urban and Dierks Bentley are making," Corbett said. "A lot of these songs could be on their records, too."
His girlfriend, actress Bo Derek, with whom he lives in California, shot the cover photo of a denim-clad Corbett with lamb-chop sideburns and an acoustic guitar.
He's been on the road visiting radio stations, opening concerts for acts such as ZZ Top and Charlie Daniels, and headlining shows at 600- and 700-seat venues. He recently completed a three-night stand at Tootsies Orchid Lounge, a storied Nashville honky-tonk.
Copyright 2018 The Associated Press. All rights reserved. This material may not be published, broadcast, rewritten or redistributed. We strive to uphold our values for every story published.