Baghdad, Iraq — A car bomb exploded Tuesday on a street packed with shoppers in a Shiite area of Baghdad, killing 22 people and wounding 28, police said. It was the deadliest bomb attack in the Iraqi capital in a month.
Terrified children screamed and several women wailed for their dead, crying, "the terrorists, may God punish them." Shattered bits of fruits and vegetables from vendors' pushcarts lay scattered on the street amid pools of blood.
At least eight other people were killed and more than 30 injured Tuesday in bombings and shootings elsewhere in Baghdad and in attacks on beauty parlors and liquor stores - symbols of Western influence - in Baqouba northeast of the capital.
The car bombing occurred shortly before 5 p.m. in a Shiite corner of Dora, a predominantly Sunni Arab district of Baghdad and one of the most dangerous parts of the city - rocked almost daily by bombings, ambushes and assassinations.
Police Maj. Gen. Mahdi al-Gharawi said the bomb was detonated by remote control and an Iraqi suspected of triggering the device had been arrested. Claims of early arrests in bombing cases often prove premature.
Another policeman, 1st Lt. Maitham Abdul-Razaq, said the blast apparently was aimed at a police patrol but missed its target, killing and maiming shoppers strolling with their families along a street lined with appliance shops and fruit and vegetable stalls.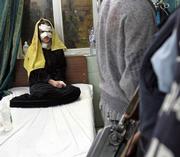 It was the deadliest bombing in Baghdad since Jan. 19, when a suicide attacker blew himself up in a coffee shop, killing 22 people and injuring 23.
The Dora bombing was the second major attack in as many days against a Shiite target in the capital. Twelve people died Monday when a suicide bomber detonated an explosives belt on a bus in the heavily Shiite district of Kazimiyah.
At least 969 Iraqis have been killed in war-related violence this year and at least 986 have been wounded, according to an Associated Press count.
However, large-scale attacks against civilians have declined in recent weeks amid widespread public criticism, including from Sunni clerics and others sympathetic to the Sunni-dominated insurgency.
Some Sunni insurgent groups are believed to be holding back to give Sunni Arab politicians a chance to negotiate concessions from Shiites and Kurds during talks on a new government.
Copyright 2018 The Associated Press. All rights reserved. This material may not be published, broadcast, rewritten or redistributed. We strive to uphold our values for every story published.