New Orleans — The first of the major Mardi Gras parades with marching bands, brightly decorated floats and flying plastic beads rolled down New Orleans' streets Saturday, greeted by small but celebratory crowds.
Despite the widespread destruction from Hurricane Katrina, officials decided to allow a scaled-back Mardi Gras celebration this year. New Orleans parades, put on by private groups, were restricted to one corridor to help cut the cost of police protection and trash pickup.
Five parades rolled back-to-back in New Orleans on Saturday under cloudy damp skies through neighborhoods left mostly unscathed by the Aug. 29 storm. More were scheduled for today and next weekend, leading up to Fat Tuesday on Feb. 28.
Capt. Juan Quinton, a police spokesman, said no major problems were reported along the route and that crowds, though small, were having fun.
Many of the residents attending the parades said Mardi Gras is an important part of the city's heritage. Children and families often gather on the same street corners year after year.
"What would the city be without Mardi Gras?" said 17-year-old Sadie Ables, standing on Lee Circle in the same spot three generations of her family has gathered for decades.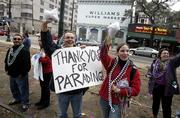 Her mother, 37-year-old Shelly Guidry, conceded she had conflicts about the cost to the city, especially given how many people remain displaced from homes.
Less than half the city's pre-Katrina population of about 480,000 has been able to return since the storm, and New Orleans' efforts to cover parade costs with corporate sponsors flailed, forcing the City Council to allocate $2.7 million to cover expenses.
Still, Guidry was on the street with family members and her 3-year-old son strapped in a seat atop a ladder, a tradition for children who grow up here during normal years when towering crowds of adults make it too difficult for children to catch beads.
"It's memories here," she said, gesturing down the street.
Helen Phillips, 62, said tradition and memories also brought her to her usual parade-viewing corner on St. Charles Avenue this year, hunkered in a lawn chair against the cold.
"I'm out here because of them," she said, looking at her 8- and 9-year-old grandchildren. "We figured why break with tradition this year?"
But Phillips didn't see many of the people who usually gathered on the same corner and speculated they were stuck in Texas or Alabama or wherever the storm scattered them.
"It's kind of depressing this year," she said.
Other celebrations
Cities as far away as Orlando, Fla., St. Louis and Snowmass Village, Colo., have revved up their own Mardi Gras celebrations.
Planners of these events say they've struggled to find ways to attract tourists who might otherwise have headed to New Orleans without appearing to be trying to capitalize on that city's loss. Out of respect for storm victims, St. Louis even changed the name of a popular New Orleans' cocktail, the hurricane, to Southern Comfort punch.
Universal Orlando constructs a replica of the French Quarter every year, but this year it doubled the attraction's size to three city blocks.
St. Louis expected such a swell of visitors who ordinarily would have gone to New Orleans that it beefed up security and added musical acts for its celebration, in its 27th year, said spokesman Mack Bradley.
"You want to have a great event, but not because of someone else's misfortune," Bradley said.
Far from the bayous, Snowmass Village also expected bigger crowds for its Mardi Gras, started in 1980 by New Orleans transplants.
"It's hard to say how many people will feel like celebrating, considering what happened, but we really want to keep that spirit alive," said Allison Johnson, a city spokeswoman.
Along with the traditional New Orleans staples of a parade and crawfish boils, Snowmass added a fundraiser for Katrina victims and locally flavored events including a snowshoe race.
Kentucky doesn't usually celebrate Mardi Gras, but with an estimated 2,000 displaced Katrina victims living in Louisville, city officials said a year without Mardi Gras for its guests would be like a "year without the Kentucky Derby."
"We thought it was one thing we could give them back," said Patrick Deprey, co-coordinator of the Feb. 26 celebration.
Copyright 2018 The Associated Press. All rights reserved. This material may not be published, broadcast, rewritten or redistributed. We strive to uphold our values for every story published.