TRENTON, N.J. — A developing nor'easter headed up the East Coast on Saturday with a threat of heavy snow, canceling flights and putting road crews on overtime but cheering up skiers in a region spared harsh weather for most of this season.
Blizzard warnings were posted from the New York City area into eastern New England, where up to 15 inches of snow was possible, and a winter storm warning was issued for most of New Jersey, the National Weather Service said. Heavy snow warnings were in effect from eastern Kentucky to New England.
More than 100 flights were canceled at New Jersey's Newark Liberty International Airport, one of the New York area's major airports. There were scattered cancellations at New York's LaGuardia and John F. Kennedy International airports.
Delta said it canceled today's arrivals and departures at several other airports in the storm's path, including those in Philadelphia; Boston; Baltimore; Newark; Providence, R.I.; Washington, D.C.; and Hartford, Conn.
Snow began falling Saturday afternoon in eastern Pennsylvania and New Jersey, slowing traffic and putting road crews into action.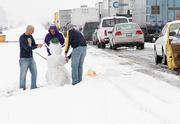 The New Jersey Department of Transportation had 600 trucks ready to plow snow and spread salt, plus 1,100 contractor trucks, the department said. The department also had its regular maintenance staff of 735 employees, plus more than 400 other state employees, available to operate plows.
The Port Authority had more than 160 pieces of heavy snow equipment at the New York region's three major airports.
In Connecticut, forecasters predicted up to 12 inches of snow, with the highest totals along the shoreline. Snow was expected to start Saturday evening and become heavy after midnight before tapering off this afternoon.
Copyright 2018 The Associated Press. All rights reserved. This material may not be published, broadcast, rewritten or redistributed. We strive to uphold our values for every story published.