New Orleans — This city's battered residents put their months of heartache, frustration and anger on parade Saturday, in effigies, blue-tarp trailers and themes like "Fridge Over Troubled Water," and gave themselves the first of many desperately needed Mardi Gras laughs.
The Krewe du Vieux, a satirical group that has used its parade to mock corporations and politicians every year for the past two decades, featured carts with effigies of Mayor Ray Nagin and Gov. Kathleen Blanco, among other things.
"It's good we can laugh at ourselves," said spectator Robert Elmwood, 77. "It means the spirit is still alive. After all the grim things, we've prevailed."
Mardi Gras has long been an occasion for the city to laugh at tragedy and aim barbs at authorities, and given all the pain New Orleans has suffered in the past year the irreverence should reach new heights this season.
Armed with sharp tongues and images such as the blue tarps that still protect broken roofs across the city, the clubs that stage Mardi Gras parades are targeting Hurricane Katrina and the politicians they blame for the chaotic response to the catastrophe.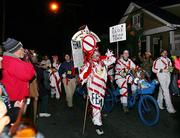 One display in the Krewe du Vieux parade Saturday asked France to buy Louisiana back, suggesting the state might get better treatment than it has from the American government.
Dressed as a pink flamingo and accompanying a cart fashioned to resemble a FEMA trailer, Sally Durkin, of Mississippi, said the satire is helping to heal the city.
"There's so much despair around it all," she said. "Sometimes you have to just take it on the chin and have some humor about it, or we all go crazy."
Mardi Gras parades typically run on weekends leading up to and on Mardi Gras, which falls on Feb. 28 this year, almost exactly six months after the storm. The parades are put on by private clubs across the city; Krewe du Vieux is a smaller French Quarter parade that runs in advance of the major parades.
Copyright 2018 The Associated Press. All rights reserved. This material may not be published, broadcast, rewritten or redistributed. We strive to uphold our values for every story published.