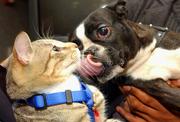 New York — Fred, the undercover cat, made his own collar.
The 8-month-old domestic shorthair was used by the Brooklyn District Attorney's Office to nab a man charged with being a fake veterinarian, officials said Wednesday.
Arrested and indicted on charges of posing as a licensed vet last Friday was Steven Vassall, 28, of Brooklyn. Vassall, who investigators said was a student at Kingsborough Community College, may have been doing medical procedures on animals for as long as seven years, said Brooklyn Dist. Atty. Charles J. Hynes.
Vassall was arrested after a Brooklyn man, Raymond Reid, 40, complained to Hynes' office about the treatment given to his Boston terrier, Burt.
Authorities set up a sting using Fred as a would-be patient. An investigator posing as Fred's owner summoned Vassall to an apartment rigged with a hidden camera. Vassall told the investigator the kitten could be neutered for $135.
Vassall was arrested after he left the apartment with Fred in a box and the cash. He was charged with treating an untold number of pets without a license, authorities said Wednesday. He was released on $2,500 bail.
Copyright 2018 The Lawrence Journal-World. All rights reserved. This material may not be published, broadcast, rewritten or redistributed. We strive to uphold our values for every story published.