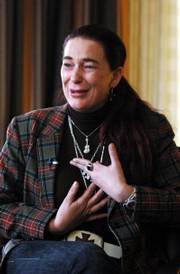 Atlanta — James Brown's lawyer said the late singer and his partner weren't legally married and that she was locked out of his South Carolina home for estate legal reasons.
"It's not a reflection on her as an individual," lawyer Buddy Dallas said Tuesday. "I have not even been in the house, nor will I until appropriate protocol is followed."
Brown's partner, Tomi Rae Hynie, was married to a Texas man in 2001 when she married Brown, thus making her marriage to the "Godfather of Soul" null, Dallas said. He said Hynie later annulled the previous marriage, but she and Brown never remarried.
"I suppose it would mean she was, from time to time, a guest in Mr. Brown's home," Dallas said.
Brown, 73, died Monday at an Atlanta hospital. After his death, Hynie, 36, found the gates to the singer's Beech Island, S.C., home padlocked and said she was denied access.
Hynie argued that she has a legal right to live in the home with the couple's 5-year-old son. "This is my home," she said outside the house. "I don't have any money. I don't have anywhere to go."
In a phone interview Tuesday from an Augusta hotel, Hynie said she had documentation to prove she was legally married to Brown.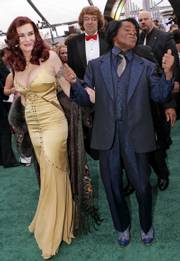 Hynie said the couple had planned to renew their vows but not remarry. She indicated that while annulment papers relating to her previous marriage initially may not have been filed properly, a judge had told her she was legally married to Brown.
"I just want this resolved," Hynie said.
Dallas said legal formalities needed to be followed, adding that Brown's estate was left in trust for his children.
"Ms. Hynie has a home a few blocks away from Mr. Brown's home where she resides periodically when she is not with Mr. Brown," Dallas said.
Dallas said Brown and Hynie hadn't seen each other for several weeks before his death.
Hynie acknowledged that the bulk of the estate was left to Brown's children, but said Brown had told her she could live in his home with their child as long as she wanted.
Hynie and Brown had a sometimes tumultuous relationship. Brown pleaded guilty in 2004 to a domestic violence charge stemming from an argument with Hynie and was let off with a $1,087 fine.
Copyright 2018 The Associated Press. All rights reserved. This material may not be published, broadcast, rewritten or redistributed. We strive to uphold our values for every story published.