Columbia. Mo. — If a Marine survives being shot in the head, chances are he or she will be looking forward to some quiet time at home. Lance Cpl. John McClellan just wanted to waste some aliens on planet Sera.
"That's the thing that killed me last time," he shouted on a recent day after being killed by a member of the Locust Horde while playing "Gears of War."
"I'm dead, John," said Lane Litton, McClellan's friend since junior high and partner in the cooperative mode of "Gears."
At first glance, the 20-year-old Marine might look like he's wasting time, but in reality he's rehabilitating his body. McClellan is using Xbox 360 games to regain movement in his left hand.
"I used to not be able to use it," said McClellan as he let go of the controller with his left hand and touched each finger to his thumb. "It definitely helps with coordination."
While standing post in Haditha, Iraq, a sniper put a bullet through the left side of McClellan's head. He survived against steep odds - the round missed McClellan's carotid artery by the thickness of two sheets of paper - but the bullet severed a nerve in control of the left side of the Hickman High School graduate's face and damaged the part of the brain that controls movement in McClellan's left hand and leg.
"He wants to move them, but his brain doesn't let him for a while," said Connie McClellan, the Marine's mother. "He can do it. He does it slowly."
Enter the Xbox 360.
Instructed to do hand exercises such as squeezing a palm-sized stress ball while recuperating at the National Naval Medical Center in Bethesda, Md., and the traumatic brain injury unit at James A. Haley Veterans' Hospital in Tampa, Fla., McClellan knew there had to be a better way.
Not just a game
The day after touching down at Columbia Regional Airport, McClellan gave his mom money and sent her to grab a video game.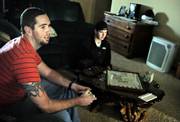 "I was trying to get some things done, and he was like, 'Mom, can you go to Wal-Mart?'" Connie McClellan said. "It was just like the old days."
Video games aren't new to the McClellans' Blue Ridge Road home. McClellan became proficient in Halo while serving overseas, he used to own a PlayStation 2 until an unknown friend stole it at a sleepover, and Connie McClellan said the original Nintendo showed up years ago and enthralled the family.
"We all got quite good at it," she said.
With her son's history of gaming and gunning, Connie McClellan said she wasn't surprised that her living room is now littered with titles like "Tom Clancy's Ghost Recon Advanced Warfighter" and "Blazing Angels: Squadrons of World War II."
Plus, she can't argue with results.
"Now, he's so much better," she said. "That has been the thing he is doing the most with his left hand is the video games."
Reality vs. virtual world
"Gears," a third-person shooter game that puts players into the heart of battle, is McClellan's game of choice for the moment - even though his September head shot was his third gunshot wound in a year. In October 2005, McClellan was hit twice in the same arm on separate occasions in the same week.
From a young age, McClellan said the differences between video games and reality have been instilled in him.
"My dad was in Vietnam," McClellan said as he took his eyes off a fierce firefight onscreen. "So, trying to compare his story to the video games - it's not the same."
The rock monsters and lizard-looking enemies also help separate "Gears" from McClellan's own battlefield experience.
"Get some!" McClellan said as he attacked an advancing member of the Locust Horde.
For four hours a day Monday through Friday, McClellan can be found at Rusk Rehabilitation Center, pushing his body and relearning how to move, but when he gets home it's time for three to four hours of the 360.
Alex Hilderbrand, a manager at Slacker's, said he hadn't heard too much about video games as rehabilitation, but he wasn't surprised.
"I guess it kind of makes sense - it does involve some sort of dexterity," he said. "Any game that you're running around shooting people in, I guess you'd be pretty accurate."
'Miracles happen'
When McClellan feels like playing something other than "Gears," he doesn't have to look far. Since word began spreading about the Marine's unorthodox rehabilitation technique and the results it has had, games have been pouring into the home from friends and family such as Diane Oerly.
"I'm really inspired by, first, John's service, but more that miraculous recovery," she said. "To me, it's the opportunity to see miracles happen in life."
Oerly brought over a few pints of homemade salsa and "Madden 2006" this week for her neighborhood hero.
"I'm surprised that video games are actually good for you because I think all these young people are going to have really bad carpal tunnel," she said. "You guys use your thumbs in ways older generations haven't done."
Copyright 2018 The Lawrence Journal-World. All rights reserved. This material may not be published, broadcast, rewritten or redistributed. We strive to uphold our values for every story published.