Protection One Inc. is hiring more employees in Lawrence, adding customers nationwide and heading back to the big time on Wall Street, all thanks to a merger announced Thursday that will keep the company's headquarters here in town.
Protection One, based in the I-70 Business Center in North Lawrence, is acquiring Integrated Alarm Services Inc. in a stock deal valued at nearly $85 million.
The deal - considered a merger by both companies - will be expected to add jobs in Lawrence, where 70 employees already work out of the headquarters at 1035 N. Third St.
Another 30 should be working there by this time next year, said Richard Ginsburg, Protection One president and chief executive officer.
Some could be coming from other Integrated Alarm locations, including the company's headquarters in Albany, N.Y., while others could be hired locally.
"We're a Lawrence company," said Ginsburg, who will lead the combined company. "It was important to me that the headquarters of the company will remain in Lawrence. : The work force in Kansas is more stable than in other parts of the country. It's a good place to grow a business."
The deal, which awaits regulatory approval, is expected to close by the end of June.
By acquiring Integrated Alarm, Protection One will pick up 750,000 customers, most of them concentrated in California, Arizona and New Mexico.
The combined company will have about 1.7 million customers, placing it ahead of Brinks, with 1.1 million customers, and behind only ADT, with 6 million customers.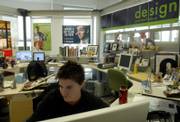 Protection One is a major player in providing monitored security for multifamily customers, and also provides wholesale monitoring services for another 800 independent alarm companies.
Integrated Alarm, which has no multifamily clients, boasts wholesale arrangements with 5,000 independent alarm companies - enough to give the combined company more than 40 percent of the 13,000 independent alarm companies operating nationwide.
Charles May, president and CEO of Integrated Alarm, said that the deal fit within his company's strategic options. Earlier this year, Integrated Alarm ousted its founder and hired an investment banking firm to evaluate options.
The merger will be expected to save the combined company between $10 million and $13 million a year.
"We are creating a market leader with the size and national footprint necessary to be a highly successful security monitoring services business in the 21st century," said Charles May, Integrated Alarm president and CEO, in a statement.
Under terms of the deal, each of Integrated Alarm's outstanding shares will be exchanged for 0.29 share of Protection One stock, which closed at $12 Wednesday and climbed to $12.25 Thursday in over-the-counter trading.
The news also spurred plenty of activity for Integrated Alarm stock, with 3.16 million shares changing hands Thursday on the Nasdaq National Market, up from the daily average of about 64,000. The price climbed Thursday to close at $3.20, up 30 cents, or about 10 percent.
Ginsburg said that such investor interest was a good sign for Protection One, now poised to return to a major market - the Nasdaq - since being dropped several years ago from the New York Stock Exchange.
"We think that's important," Ginsburg said, noting that a Nasdaq listing would improve "liquidity" options for shareholders. "It also enables our customers and our employees to actually own a piece of the company."
As it stands now, about 97 percent of Protection One is owned by affiliates of Quadrangle Group LLC, an investment firm. Protection One will retain 72 percent ownership in the combined company.
The largest shareholder of Integrated Alarm, Contrarian Capital Management LLC, has expressed support for the merger. Integrated Alarm will retain 28 percent ownership of the combined company.
Watch the 6News video report
Copyright 2018 The Lawrence Journal-World. All rights reserved. This material may not be published, broadcast, rewritten or redistributed. We strive to uphold our values for every story published.