Movie
Dreamgirls
* 1/2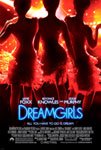 Based on the 1981 hit Broadway play, Dreamgirls has been hyped all year as a frontrunner for Best Picture, and now that it has finally arrived, it turns out to be as phony as Pat Boone covering a Little Richard tune. It is big and showy and loud, but director Bill CondonÂ's attempts to make the movie more socially relevant than the theatrical production just serve to highlight what little soul was there in the first place.
Get movie listings, reviews, and more at lawrence.com
-->
-->
The title of the film is "Dreamgirls," but it could have been called "A Star Is Born."
Former "American Idol" contestant Jennifer Hudson absolutely walks away with this big, splashy dazzler of a picture, based on the 1981 Broadway musical, even before performing her plaintive, showstopping number, "And I Am Telling You I'm Not Going." And that's quite a feat.
Writer-director Bill Condon ("Gods and Monsters," "Kinsey"), who was nominated for a screenwriting Oscar for best-picture winner "Chicago," has crafted an enormously entertaining, technically triumphant film. In following the rise of a Supremes-style Detroit trio - played by Hudson, Beyonce Knowles and Anika Noni Rose - the music, choreography, costumes, lighting and makeup are all superb. The editing is consistently fluid, the energy high.
"Dreamgirls" is vastly more successful than other revered stage productions that have come to the screen recently - "The Phantom of the Opera," "Rent" and "The History Boys" - which maintained the core of their content and, as a result, seemed too structured, too clunky.
Yet the ending is so rushed it'll make your head spin (Condon really crams a lot into those last 20 minutes or so). And the whole thing can be hard to take seriously - especially "And I Am Telling You I'm Not Going," which in the past 25 years has become a favorite drag-queen anthem and now sounds a bit bombastic.
When Hudson does end up going, though, the movie goes with her, and it perks right back up again when she returns. With her huge voice and fierce presence, she proves herself a worthy successor to Jennifer Holliday, who originated the role of Effie White, headstrong lead singer of the Dreamettes.
Jamie Foxx is sufficiently sleazy as the group's two-timing manager, car salesman Curtis Taylor, with Eddie Murphy revisiting his "Saturday Night Live" James Brown impression as R&B; sex machine Jimmy Early. (In one rambling performance, he doesn't jump back and kiss himself, but he does grunt and thrust and strip down to his skivvies.)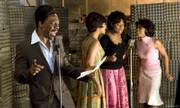 Curtis takes over the trio after seeing them perform at an amateur night and promptly begins romancing the feisty Effie, who drops her guard and lets herself fall in love with him. The notoriously philandering Jimmy, meanwhile, sets his sights on the small, meek one of the three, Rose's Lorell, as they all begin touring and recording together, with the trio serving as Jimmy's backup singers.
But it doesn't take long for Curtis to move the Dreamettes out from behind Jimmy and onto center stage, renaming them the Dreams and making Knowles' Deena - who's prettier and lighter-skinned than Effie - the lead singer, though even Deena admits she lacks Effie's formidable pipes.
Deena replaces Effie in Curtis' bed, as well, sparking a rift that sends Effie spiraling while the rest of the group becomes stratospherically successful with fill-in singer Michelle ( Sharon Leal). And as Deena becomes the most visible member of the trio (with the inevitable comparisons to Knowles' role in Destiny's Child becoming glaringly obvious) it's hard to tell whether Curtis is in love with the woman or merely dependent on her as a product.
While Knowles' voice is as strong as Hudson's in her own poppy way, she still needs to beef up in the acting department; your main memory of her performance in "Dreamgirls" will be that she looked good. But she is the main beneficiary of costume designer Sharen Davis' infinite resourcefulness; the big-earring-and-bell-bottom phase is fun, and even the unfortunate foray into a black "Cleopatra" movie is a hoot.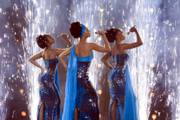 Murphy, however, digs deep for the first time in a long time - possibly the first time ever. The wild partying takes a toll on Jimmy off stage, making it increasingly difficult to perform on stage, and you truly believe that you're watching a man who's ultimately left with nothing he can rely on besides his heroin habit.
But this is Hudson's movie all the way. And by the way, who was it that won "American Idol" the season she was on there? Never mind - she turned out more than fine, with or without Simon Cowell's help.
Copyright 2018 The Associated Press. All rights reserved. This material may not be published, broadcast, rewritten or redistributed. We strive to uphold our values for every story published.