Denver — Thousands of travelers stranded at Denver's airport trying to beat the Christmas rush experienced a second frustrating day Thursday, forging through a snowbound city to hotels or opting to bed down again in the terminal.
The nation's fifth-busiest airport, which shut to all flights Wednesday, wasn't expected to reopen until noon today, creating a ripple effect that disrupted air travel across the country just as the holiday travel crush began to build.
"We can't go home; the highway's closed. We can't get to the car; it's 10 miles away. And the hotels are not cheap," said Jodie Hartfield of Colorado Springs, who spent a sleepless night squeezed between a signboard and a phone booth with her husband and three young children.
The closure of Denver International - once touted as an "all-weather airport" - prompted cancellation of more than 2,000 flights through today, according to airline officials.
Nearly 5,000 travelers had been stranded at the airport by the storm, which dropped as much as 25 inches of snow in the Denver area and up to 3 feet in the mountains. But by Thursday afternoon, buses and shuttles were making regular pickups, and a steady flow of people headed toward the parking lots. By nightfall, about 1,500 remained, spokesman Steve Snyder said.
On Wednesday night, airport authorities provided a few hundred cots for the estimated 4,700 stranded travelers and doled out scratchy Red Cross blankets, along with diapers and baby formula. But there wasn't nearly enough bedding to go around.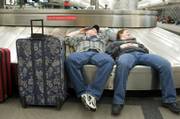 Hundreds of travelers slept in lines at ticket counters. Others huddled on bench seats or sought shelter against walls and counters, covering themselves with clothing, luggage and newspapers. The baggage pickup area proved a popular spot - it was dark enough to sleep.
Plows managed to clear one runway, but de-icing areas, plane "push-back" areas and other stretches of tarmac still were buried, Snyder said. Additionally, ticket crews, Transportation Security Agency workers and other logistical employees were needed before the airport could open.
Denver International was touted during construction in the early 1990s as an "all-weather airport" because of runway spacing and alignment, and electronic gear that could guide planes in for a landing using only instruments.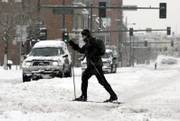 The claim was challenged at the time. On Thursday, Snyder called it "a wonderful phrase we wish had never been invented."
All day Thursday, airport managers persuaded travelers to leave. Public-address announcements stressed there would be no flights for another day, and plows cleared parking lots and worked the 10-mile access road to Interstate 70.
A convoy of 10 buses, led by a snowplow, took about 800 travelers to hotels 25 miles away in downtown Denver. Shortly afterward, buses and shuttles were able to resume service.
It was the biggest snowstorm to hit Colorado since a March blizzard in 2003 that shut down the region and killed six.
Copyright 2018 The Associated Press. All rights reserved. This material may not be published, broadcast, rewritten or redistributed. We strive to uphold our values for every story published.