Los Angeles — Joe Barbera, half of the Hanna-Barbera animation team that produced such beloved cartoon characters as Tom and Jerry, Yogi Bear and the Flintstones, died Monday, a Warner Bros. spokesman said. He was 95.
Barbera died of natural causes at his home with his wife Sheila at his side, Warner Bros. spokesman Gary Miereanu said.
With his longtime partner, Bill Hanna, Barbera first found success creating the highly successful Tom and Jerry cartoons. The antics of the battling cat and mouse went on to win seven Academy Awards, more than any other series with the same characters.
The partners, who first teamed while working at MGM in the 1930s, then went on to a whole new realm of success in the 1960s with a witty series of animated TV comedies, including "The Flintstones," "The Jetsons," "Yogi Bear," "Scooby-Doo" and "Huckleberry Hound and Friends."
Warner Bros. Chairman and CEO Barry Meyer called Hanna and Barbera's characters "not only animated superstars, but also a very beloved part of American pop culture."
Hanna, who died in 2001, once said he was never a good artist but his partner could "capture mood and expression in a quick sketch better than anyone I've ever known."
The two first teamed cat and mouse in the short "Puss Gets the Boot." It earned an Academy Award nomination, and MGM let the pair keep experimenting until the full-fledged Tom and Jerry characters eventually were born.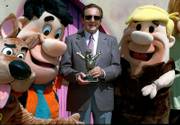 Jerry was borrowed for the mostly live-action musical "Anchors Aweigh," dancing with Gene Kelly in a scene that became a screen classic.
After MGM folded its animation department in the mid-1950s, Hanna and Barbera were forced to go into business for themselves. With television's sharply lower budgets, their new cartoons put more stress on verbal wit rather than the detailed - and expensive - action featured in theatrical cartoons.
Like "The Simpsons" three decades later, "The Flintstones" found success in prime-time TV by not limiting its reach to children. The program, a parody of "The Honeymooners," was among the 20 most popular shows on television during the 1960-61 season, and Fred's shout of "yabba dabba doo!" entered the language.
The Jetsons, which debuted in 1962, were the futuristic mirror image of the Flintstones.
"It was a family comedy with everyday situations and problems that we window-dressed with gimmicks and inventions," Barbera once said. "Our stories were such a contrast to many of the animated series that are straight destruction and blasting away for a solid half-hour."
Copyright 2018 The Associated Press. All rights reserved. This material may not be published, broadcast, rewritten or redistributed. We strive to uphold our values for every story published.