Huntington, W.Va. — For so long, Hollywood paid no attention.
A plane carrying the Marshall football team crashed in 1970, leaving no survivors. It was - and remains - the worst sports-related disaster in American history.
Jamie Linden, a screenwriter, was reading about the crash a few years ago while he was a marketing major at Florida State. The story struck him, and he wondered why no movie had been made.
The story also struck Mary Viola, vice president of Thunder Road Productions in Los Angeles. She'd heard the story as a child. And after the Sept. 11, 2001, terrorist attacks, she thought the country was in need of "a tale of people overcoming great tragedy and continuing on with their lives."
In 2004, Viola and Linden pitched the idea to Warner Bros. Linden and Cory Helms started writing the screenplay for "We Are Marshall" the following spring. Part of the movie was filmed this year in Huntington, where it premieres Tuesday. It opens nationwide Dec. 22.
"It's just such an amazing, incredible story. All I did is sort of write it down," Linden said in a telephone interview with the Associated Press. "It's one of those things that just deserved to be a movie and that should have happened a long time ago."
But the story "slipped through the cracks," possibly because of the location, he said.
"I think part of it is it happened in West Virginia, which is a state that gets overlooked, and it happened to Marshall, which is a school in a state that gets overlooked."
Had this happened at a more well-known school, "there would have been five movies and seven books," Linden said.
Director McG, who goes by one name but was born Joseph McGinty Nichol, says it's fortunate for him the story "eluded the Hollywood group."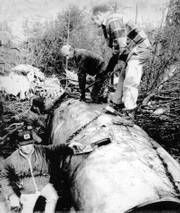 "In a strange way I'm happy because that created a tremendous opportunity for all of us to come together and tell the story now," he said.
"And it's a timely story now with Katrina and 9/11 and everything else that's going on in the world and how people need to manage grief and move forward - so it makes as much sense in 2006 as it did in '71."
On Nov. 14, 1970, a chartered jet carrying a five-member flight crew, 36 football players, five coaches, the athletic director, four other members of the athletic department and 24 fans crashed into a hillside near Tri-State Airport while returning from a game at East Carolina.
Despite concerns that rebuilding the program would be too painful and impractical, acting university president Donald Dedmon announced that football would continue at Marshall.
The movie follows the 1971 "Young Thundering Herd," so named because the team was given special permission from the NCAA to play freshmen. With very few experienced players, the team won two of its 10 games that year - including an upset win over Xavier on the last play of the game.
"The whole thing was unbelievable," said Red Dawson, the assistant coach who called in the winning play - a 213 bootleg screen pass from Reggie Oliver to Terry Gardner.
"The last play of the game, the first home game, nobody would have predicted that in a million years," said Dawson, who was not on the plane because of a recruiting trip.
While the play is slightly different in the movie, Dawson said, "the 213 bootleg screen will always be a part of the legacy of Marshall University."
And the 1970 and 1971 teams "laid the groundwork" for Marshall's future football successes, he said.
Those successes include 20 consecutive winning seasons, two of them undefeated; eight conference crowns; two I-AA national championships; five bowl wins; and multiple players who went on to the NFL, including Randy Moss of the Oakland Raiders, Chad Pennington of the New York Jets, and Byron Leftwich of the Jacksonville Jaguars.
Marshall finished the 1990s with 114 victories, more than any other team in I-A or I-AA in a single decade.
Jack Lengyel, who coached the 1971 team, tried for years to drum up interest in a movie. While athletic director at Navy from 1988 to 2001, Lengyel came to know people at the three major television networks as well as at ESPN and HBO.
"Everybody would express some interest, but it would never rise to the occasion to say 'Well, yes, let's make a movie."'
Copyright 2018 The Associated Press. All rights reserved. This material may not be published, broadcast, rewritten or redistributed. We strive to uphold our values for every story published.