New Orleans — One year ago, these were places of horror: The fetid convention center. The overwhelmed Superdome. The cracked levees, unleashing an unstoppable cascade of water.
Those who survived Hurricane Katrina returned to these and other spots of suffering on the one-year anniversary of the storm, offering flowers, reading names of those who died and bowing their heads in silent prayer.
In the city's unique tradition of celebrating life while grieving death, a jazz funeral wound its way through the potholed streets, the trumpet and tuba players preceding a horse-drawn hearse. They played a dirge for the city's watery death, then exploded into a boisterous and joyful rhythm, opening colorful parasols as they danced the city back to life.
Outside the city's convention center, where thousands waited in vain on the sweltering pavement for food, water and a way out, residents dedicated a memorial to Katrina's dead. One by one, they laid a white carnation in front of the granite monument, saying the name of a loved one.
On the steps of New Orleans City Hall, a bell rang for the dead. Mayor Ray Nagin invited the storm's survivors to stencil the victims' names on a giant banner, decorated with 1,600 fleur-de-lis emblems, the signature flower that has long been a symbol of the city. Nearly 1,600 people in Louisiana died in the storm and its aftermath.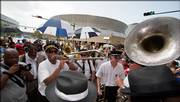 Kevin Evans wrote the names of his mother, his grandmother and three other relatives who died in the hurricane. "I'm just here to put closure to it. Hopefully move on."
It was a commemoration that stretched across the Gulf Coast, including in Mississippi, where Katrina made a second landfall, killing 231 people.
In Gulfport, Miss., two unidentified victims of the storm were given symbolic names - "Will" and "Strength" - before their bodies were laid to rest in a city-owned cemetery.
"God knew who these people were. He knew their names," said Chris Chavers, 38, of Lucedale, Miss. who brought her 7-year-old son to the service. "Even though we didn't know them, everybody matters."
In St. Louis Cathedral, New Orleans' 285-year-old mother church, President Bush bowed his head in honor of the dead. But he also made an impassioned plea for the living.
"I know you love New Orleans, and New Orleans needs you," the president said. "She needs people coming home. She needs people - she needs those saints to come marching back, is what she needs!"
On his way out of the city, Bush's motorcade drove to the shattered Lower Ninth Ward, where water from the buckled levees tore homes from their foundations and spit them into the street. He stopped at the destroyed home of New Orleans rock 'n' roller Fats Domino.
Not far away, people danced, sang and wept at the new levee that replaced one that had split open on the Industrial Canal.
Copyright 2018 The Associated Press. All rights reserved. This material may not be published, broadcast, rewritten or redistributed. We strive to uphold our values for every story published.