KANSAS CITY, KAN. — The fight between the state and federal governments about water releases from Perry Lake will be waged at higher levels, it was announced Tuesday.
Gov. Kathleen Sebelius will appeal to U.S. Army Assistant Secretary John Paul Woodley Jr. to reduce the releases that are hurting recreational boating at the lake. The meeting between the two officials is scheduled for Friday in Topeka. Woodley is in charge of the U.S. Army Corps of Engineers, which owns Perry Lake.
"The rules are in the way, and they have to be changed," Joe Harkins, special assistant to Sebelius, said to an appreciative crowd of more than 100 people who gathered Tuesday night at the Wyandotte County Fairgrounds.
The meeting was called by boaters at Perry Lake who have asked the corps to reduce water releases from the lake.
"We're really looking for a permanent solution instead of the uncertainty we have from year to year," said Tony Andresen, commodore of the Perry Yacht Club.
Corps officials, however, said they were required by law to make the drawdowns to assist navigation of barges and other commercial watercraft on the Missouri River.
Using Perry Lake waters for navigation is part of the lake's mission, they said.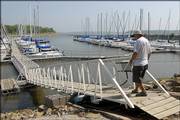 Allen Tool, chief of the hydrologic engineering branch of the corps' Kansas City, Mo., district, said deviations to the lake's required operations have been allowed in previous years.
But, Tool added, "they're not to be used as long-term strategies."
But boaters and state officials argued that drawing down the level of Perry Lake by as much as 6 feet had little to no effect on streamflow of the Missouri River.
And, they said, the economic impact of boating on the lake outweighs the economic benefit of water releases for barge traffic.
Congress has authorized a study to determine whether the master plan for operation of the river basin should be changed. But officials noted that the study hasn't been funded yet, and even if it does get funded, those kinds of studies take years.
In the meantime, Harkins argued, the state and corps need to come up with a compromise to balance the needs of recreational boaters with downstream navigation.
"Between now and the time it gets resolved, we need to use common sense," he said.
Also attending the meeting were state Reps. Lee Tafanelli, R-Ozawkie, and Tom Sloan, R-Lawrence, several state agency leaders and additional corps officials. Representatives of U.S. Sens. Sam Brownback and Pat Roberts and representatives of U.S. Reps. Jim Ryun and Dennis Moore also attended.
Copyright 2018 The Lawrence Journal-World. All rights reserved. This material may not be published, broadcast, rewritten or redistributed. We strive to uphold our values for every story published.