Finally, some good news about gasoline.
State regulators confirmed Monday that this weekend's heavy rains did not cause dangerous gasoline fumes to re-emerge in an old West Lawrence neighborhood that was the site of a major underground storage tank leak earlier this year.
Members of the Kansas Department of Health and Environment previously had expressed concerns that heavy rains could cause gasoline that is trapped in the ground beneath homes to rise up through residents' sump pumps, which would create a major fire hazard for the homes.
"It looks like everything held up real well over the weekend," said Randy Carlson, who oversees the storage tank section of KDHE. "We're real happy about that."
In late April, a five-apartment house at 838 La. was destroyed by fire that investigators said was fueled by leaks from an underground storage tank at the Presto Phillips 66 station, 602 W. Ninth St. Investigators concluded that the leaked fuel or fumes were sucked into the home's sump pump and that some electrical spark ignited the blaze.
State regulators have installed vapor alarms in the basements of eight homes in the neighborhood, and Carlson said none of those had sounded.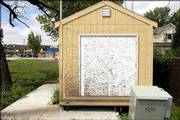 But Carlson said significant amounts of gasoline remained in the ground.
"The gas isn't gone, but we think we have it pretty well contained," he said.
The state has installed a pump and filtering facility in the neighborhood that is slowly removing gasoline from the groundwater in the area. More than 2,000 gallons of gasoline have been pumped from the area.
Carlson said it was difficult to estimate a timeline for when all the fuel would be removed from the area, though regulators said in May it could take at least a year.
The leak and the house fire have spurred state regulators to begin thinking about changes to the way the state monitors underground gasoline storage tanks.
Gary Blackburn, director of KDHE's bureau of environmental remediation, said the department was considering boosting its inspection efforts.
"We think it would be more likely that we'll catch things before they become problems if we inspect on a more regular basis," Blackburn said. "We think that may be a better strategy than trying to change some of the other provisions."
The state has been questioned about its current reporting provisions. Now, gasoline station operators are not required to notify the state of a possible leak unless they have two consecutive months when gasoline sales and total gallons of gasoline leaving the tank differ by 1 percent or more. In the case of many larger stations, that could allow for more than 1,000 gallons of fuel to leak into the ground before the state is notified.
Blackburn, though, says that 1 percent factor is needed because measuring gasoline is not an exact science, especially given that gasoline expands and contracts as temperatures change.
If the state stiffens its inspections program, it likely would go from a requirement that tanks be inspected once every four years to once every three years, Carlson said. He said several states were looking to adopt that standard for inspections.
Copyright 2018 The Lawrence Journal-World. All rights reserved. This material may not be published, broadcast, rewritten or redistributed. We strive to uphold our values for every story published.