A convenience-store chain has been fined $4,900 for not detecting a fuel-tank leak suspected of causing an April 30 apartment house fire that left four tenants homeless, a state official said Tuesday.
"They have 30 days to pay it," said Ron Hammerschmidt, director of the Division of Environment at the Kansas Department of Health and Environment.
Under state law, the company, Presto Convenience Stores, may not appeal the penalty.
Presto vice president Doug Wald said the Andover-based company would pay the fine.
"Since this whole thing started, we've done everything we could possibly do," Wald said. "It was never our intent to harm the environment. We've learned from this and, hopefully, it will never happen again."
KDHE has fined eight companies for fuel-tank leaks in the past year, Hammerschmidt said, noting that $4,900 was "more than most - medium to high, I'd say."
Not all of the $4,900 will go to KDHE, he said, noting that $2,000 will be shared with the Lawrence-Douglas County Household Hazardous Waste Program.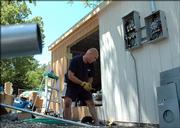 So far, Hammerschmidt said, cleanup efforts have cost KDHE "a little over $500,000."
Presto is expected to pay the first $5,000. The remainder will come from the Kansas Petroleum Storage Tank Release Trust Funds, a taxpayer-funded account set up to cover the state's costs.
Monitoring the site
Twenty-five monitoring wells and 20 water-level sensors have been installed on and near the Presto store at 602 W. Ninth St.
"We have 19 (sensors) now," Hammerschmidt said. "One got run over by a truck."
KDHE also ordered the installation of a "vapor extraction system" designed to remove gasoline fumes from the soil.
"It requires a blower," Hammerschmidt said, "so we're constructing a building for it. We don't want to disrupt the neighborhood with a lot of the noise."
The building - a large shed - now stands on the vacant lot at 838 La., the site of the former five-apartment house, which was razed after the fire.
The extraction equipment is expected to "run continuously for about a year," Hammerschmidt said.
Fire investigators have said the blaze was fueled by gasoline that had migrated through the groundwater from a leaking underground tank at the Presto station across the street. The gas, investigators concluded, was sucked up through a sump pump in the house and ignited by a spark from the pump or a pilot light on the furnace or hot water heater.
Absence of gasoline
Hammerschmidt said most of the gasoline appears to have been removed from the site.
"The fact that it's not showing up in the (monitoring) trenches is encouraging," he said. "Of course, Lawrence hasn't had a heavy rain since all this happened. That'll be the real test."
Gasoline sales at the Presto store resumed Friday.
"It's going really well," Wald said. "We're ahead of where I thought we'd be. Once we get the east entrance opened up, we should be in good shape."
The east entrance, which borders Louisiana Street, was torn up when the store's tanks were removed.
For now, neighbors appear satisfied with both KDHE's and Presto's efforts.
"I don't like that it happened, but I figure we've got the cleanest gas station in town," said a woman who lives about a half-block from the store. She asked that her name not be used.Hammerschmidt said Presto has agreed to upgrade its tank-monitoring equipment and manager training at all 41 of its stores in Kansas, beginning with the four in Lawrence.
The upgrades, he said, will include installation of "observation tubes" in a stores that don't have them now.
"I never want to go through this again," Wald said. "I can't tell you how much sleep I've lost over this."
Copyright 2018 The Lawrence Journal-World. All rights reserved. This material may not be published, broadcast, rewritten or redistributed. We strive to uphold our values for every story published.