Boulder, Co. — Prosecutors abruptly dropped their case Monday against John Mark Karr in the slaying of JonBenet Ramsey, saying DNA tests failed to put him at the crime scene despite his insistence he sexually assaulted and strangled the 6-year-old beauty queen.
Just a week and a half after Karr's arrest in Thailand was seen as a remarkable break in the sensational, decade-old case, prosecutors suggested in court papers that he was just a man with a twisted fascination with JonBenet who confessed to a crime he didn't commit.
"The people would not be able to establish that Mr. Karr committed this crime despite his repeated insistence that he did," Dist. Atty. Mary Lacy said in court papers.
The 41-year-old schoolteacher will be kept in jail in Boulder until he can be sent to Sonoma County, Calif., to face child pornography charges dating to 2001. An extradition hearing was scheduled for today.
The district attorney vowed to keep pursuing leads in JonBenet's death: "This case is not closed."
Karr was never formally charged in the slaying. In court papers, Lacy defended the decision to arrest him and bring him back to the United States for further investigation, saying he might have otherwise fled and may have been targeting children in Thailand as well.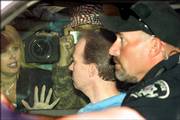 Lacy said Karr emerged as a suspect in April after he spent several years exchanging e-mails and later telephone calls with a University of Colorado journalism professor who had produced documentaries on the Ramsey case.
According to court papers, Karr told the professor he accidentally killed JonBenet during sex and that he tasted her blood after he injured her vaginally. But the Denver crime lab conducted DNA tests last Friday on a cheek swab taken from Karr and were unable to connect him to the crime.
Lacy also said that authorities found no evidence Karr was in Boulder at the time of the slaying. She said Karr's family provided "strong circumstantial support" for their belief that he was with them in Georgia, celebrating the Christmas holidays. JonBenet was found beaten and strangled at her Boulder home on Dec. 26, 1996.
In an interview Monday with MSNBC, Gary Harris, who had been spokesman for the Karr family, said he knew the DNA would not match.
Karr has been "obsessed with this case for a long time. He may have some personality problems, but he's not a killer," Harris said. "He obsesses. He wanted to be a rock star one time. ... He's a dreamer. He's the kind of guy who wants to be famous."
Copyright 2018 The Associated Press. All rights reserved. This material may not be published, broadcast, rewritten or redistributed. We strive to uphold our values for every story published.