Kennebunkport, Maine — President Bush came to his parent's century-old summer home on the Maine coast for a little relaxation, a distant cousin's wedding and some family time. He got all that, along with a boisterous reminder nearly on his bucolic doorstep of the unpopularity of his Iraq policies.
What local police estimated were about 700 anti-war demonstrators marched Saturday to within half a mile of the Bush compound before being turned back at a security checkpoint. Called Walker's Point after the family of former President Bush's mother, the stone-and-shingle retreat covering a craggy promontory is owned by the current president's parents.
The protesters sang, chanted, beat drums, waved signs and even played fiddles to call on Bush to bring troops home.
"Bush is fiddling while the world burns, just as Nero fiddled while Rome burned," said Pippa Stanley, 15, of Richmond, Maine, who was helping with the backdrop for a pair of fiddlers dressed in togas.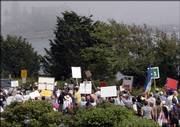 The group was loosely aligned with activist Cindy Sheehan, the mother of a soldier who died in Iraq who gained international attention when she shadowed Bush last summer while he vacationed at his ranch in Crawford, Texas.
A spokeswoman for Bush said he wasn't bothered by the demonstration that briefly took over the tiny, scenic downtown of Kennebunkport.
The president was drawn to his first visit to the retreat in two years by the wedding of Walker Stapleton.
He is the son of the former president's cousin, Dorothy Walker Stapleton, and Craig Roberts Stapleton, the U.S. ambassador to France, who was a partner with George W. Bush in the Texas Rangers baseball team. Stapleton married Jenna Bertocchi on Saturday before about 300 friends and family at St. Ann's Episcopal Church, a stone chapel overlooking the sea.
The president was returning to Washington today before a week of traveling. He is marking the one-year anniversary of Hurricane Katrina with a visit to the Gulf Coast; raising money for Republicans in Arkansas, Tennessee and Utah; and addressing the American Legion convention in Salt Lake City.
Copyright 2018 The Associated Press. All rights reserved. This material may not be published, broadcast, rewritten or redistributed. We strive to uphold our values for every story published.