For the time being, it appears there is finally peace in East Lawrence.
"We all came together. We left with a consensus," architect Eddy Krygiel said toward the end of a day-long development meeting that began with some bickering but wound down with applause and thank-yous.
The meeting in the gymnasium of New York School was intended to restart an often contentious Harris Construction commercial and residential project along the 800 block of Pennsylvania Street.
While the city commission approved some zoning aspects of the project earlier this month, some neighbors have held fast for years that the project wouldn't fly under some of developer Bo Harris' original plans.
So those neighbors - along with about two dozen other East Lawrence Neighborhood Assn. members, city staffers and commissioners - showed up Saturday to what some feared would be another drag-out fight about the project.
But in the end, many left feeling accomplished, having reached an agreement on what the combination retail and residential project should look like.
The plan includes:
¢ Rows of green space and open, common area between buildings on the west side of the block. The space will, in some way, coincide with green space in the historic district across the street.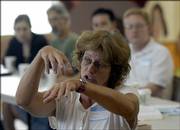 ¢ Retail developments on both ends of the block, but in unique buildings to avoid a "bookend" appearance. The buildings will likely hold one floor of retail or commercial space and two floors of 12 residential units, with the corner of Ninth and Pennsylvania streets housing more shops behind a corner entrance that faces both streets.
¢ The middle of the block filled with some combination of row-houses, brownstones or other smaller two-and-three story housing.
¢ A portion of that housing will be sold to the Lawrence Community Land and Housing Trust and will be made permanently affordable.
Much of the meeting consisted of neighbors and others looking at mixed-use design examples - many from the Kansas City area and Boulder, Colo. - and basically voting for or against designs and project goals.
For most, the hours - and truly years - of negotiations resulted in a design that would both reflect the uniqueness of the neighborhood and give Harris the number of units and design freedoms to make the project successful.
"There is a pattern of history here that has to be acknowledged," said Sally Schwenk, a preservation consultant working with Harris. "You have to consider it all very holistically."
That holistic view included incorporating the historic industrial district on the east side of Pennsylvania Street - something that fueled ideas of a blended, industrial facade for the residential and retail buildings across the street.
The agreements set the stage for what Harris said he hoped would be quick passage back through the city's Historic Resources Commission.
Architects will present designs to the neighborhood association Sept. 11 before taking designs back to the city.
But Saturday, Harris still feared opposition from some more vocal community members who didn't attend the meeting.
"I know there are some highly influential individuals who didn't attend," Harris said. "Tell them it's going to be OK."
After the meeting, Harris said he hoped those who still disapproved of the project could appreciate what the different sides accomplished Saturday - especially since the timeline for the project had already been stretched further than he would have liked.
He said he'd like to avoid any further hikes in material costs, interest rates or working during winter months.
"I hope out of due respect for their fellow neighbors, they can buy into what we've done today," he said.
Neighborhood association president Janet Good said overall, she thought the development had overcome the most serious neighborhood roadblocks.
"There's no way you're going to make everybody happy," Good said. "There was a good cross-section of the community here. A lot of people are excited to see it get going."
Copyright 2018 The Lawrence Journal-World. All rights reserved. This material may not be published, broadcast, rewritten or redistributed. We strive to uphold our values for every story published.