Los Angeles — While the messy divorce between Tom Cruise and Paramount Pictures won't sink Cruise's career, it still points to a sea change in an industry that has tolerated celebrity misdeeds as long as they didn't hurt the bottom line.
The 14-year relationship between Cruise's production company and Paramount exploded Tuesday after Sumner Redstone, chairman of Paramount parent Viacom Inc., said Cruise's recent behavior, such as jumping on Oprah Winfrey's couch and aggressively advocating Scientology, was "creative suicide." Redstone said such displays cost the studio up to $150 million in lost ticket sales for Cruise's last film, "Mission: Impossible III."
Redstone may have been basing some of his reaction on the fact that negative public perception of Cruise has soared in the past six months in the closely watched Q Scores, which rate celebrity popularity. They indicate that negative perception of Cruise jumped nearly 100 percent since mid-2005, while positive perception fell about 40 percent.
"He's definitely at his low point in terms of consumer appeal, among both males and females," said Henry Schafer, executive vice president of Marketing Evaluations Inc., the Q Scores company.
Whether that means moviegoers are spurning his films is a different matter, says film producer Peter Guber, who has worked with Cruise in such movies as "Rain Man" and a "A Few Good Men."
"One would have to believe he will remain luminous in the near term," said Guber, chairman of Mandalay Entertainment Group and host of AMC's "Sunday Morning Shoot-out."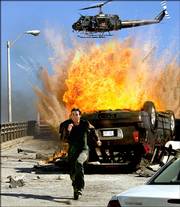 "He didn't go out and kill somebody. He didn't drive drunk. He didn't beat up his wife," Guber said. "I think he will remain a top star in the business and command a great deal of attention and bring in a great deal of revenue."
The public is notoriously fickle when it comes to movie stars, although Cruise has sustained broad popularity longer than most.
And Cruise does not face the same kind of challenge confronting Mel Gibson, who spouted anti-Semitic remarks after being stopped for drunken driving.
"It's probably going to take more time to get back to where he was in consumer popularity," Schafer said of Cruise. "If he comes out in the next year or so with a big hit movie, that will help."
The acrimonious split comes at a time when studios are slashing costs, especially the kind of huge paychecks that stars such as Cruise have commanded, even for production deals. Paramount was reportedly paying his company, Cruise/Wagner Productions, $10 million dollars a year to develop new projects.
Studios are no longer the private domains of moguls who often inserted a "morals clause" into star contracts and could scuttle a career based on bad behavior.
Still, Cruise will likely continue to star in films for Paramount, even as his company vacates the Paramount lot and raises private financing. Cruise/Wagner has several films in development at Paramount as well as other studios.
Cruise himself was never under contract to Paramount as an actor and has appeared in films for other studios over the years, including "The Last Samurai" for Warner Bros. in 2003.
On Wednesday, Cruise's representatives said the star had told Paramount weeks ago that he would not renew his Paramount deal.
Copyright 2018 The Associated Press. All rights reserved. This material may not be published, broadcast, rewritten or redistributed. We strive to uphold our values for every story published.