San Francisco — Joe Rosenthal, a photojournalist whose Pulitzer Prize-winning image of World War II servicemen raising an American flag over Iwo Jima became the model for the Marine Corps War Memorial, has died. He was 94.
Rosenthal, who took the iconic photograph on Feb. 23, 1945, while working for The Associated Press, died Sunday of natural causes at an assisted living facility in suburban Novato, said his daughter, Anne Rosenthal.
"He was a good and honest man. He had real integrity," she said.
He was also modest. Rosenthal preferred in his role as a combat photographer to chronicle the experiences of soldiers on the front lines, and liked to call himself "a guy who was up in the big leagues for a cup of coffee at one time."
A decade after the flag-raising, he recalled that he did not realize he had shot anything special until days later when the congratulations started pouring in.
"Out of the corner of my eye, I had seen the men start the flag up. I swung my camera and shot the scene," he said a decade afterward. "That is how the picture was taken, and when you take a picture like that, you don't come away saying you got a great shot. You don't know."
The photo quickly became the subject of posters, war-bond drives and a U.S. postage stamp. It kept Rosenthal busy for years as he fielded requests for reprints. He said he was flattered by the attention, but added, "I'd rather just lie down and listen to a ball game."
Located 750 miles south of Tokyo, the small Pacific island of Iwo Jima was important to both Japan and the United States during World War II.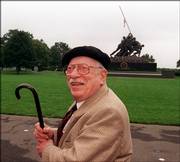 After 30,000 Marines landed there Feb. 19, 1945, it took four days for a contingent to scale Mount Suribachi, the highest point. More than 6,800 U.S. servicemen died in the five-week battle for the island, and the 21,000-man Japanese defense force was virtually wiped out.
Rosenthal's shutter captured the second raising of the flag on Mount Suribachi after the Marines decided the first flag was too small. Rosenthal later wrote that he almost didn't climb the summit when he learned a flag already had been raised.
"What I see behind the photo is what it took to get up to those heights - the kind of devotion to their country that those young men had, and the sacrifices they made," he said. "I take some gratification in being a little part of what the U.S. stands for."
Besides being awarded the Pulitzer Prize in 1945, the photo made No. 68 on a 1999 New York University survey of the best 100 examples of journalism from the 20th century. Sculptor Felix W. de Weldon used it as the pattern for the Marine Corps memorial, dedicated in 1954 near Arlington National Cemetery in Virginia to commemorate Marines who have died in the line of duty.
Rosenthal nevertheless had to defend the photograph against claims that the second flag raising he shot was staged for his camera. He said that if he had posed it, "I would, of course, have ruined it" by choosing fewer men and making sure their faces could be seen.
His account was later bolstered by a frame captured by a military cameraman, Marine Sgt. Bill Genaust, who filmed the same flag-raising.
Rosenthal left the AP later in 1945 to join the San Francisco Chronicle, where he worked as a photographer for 35 years before retiring.
"He was short in stature but that was about it. He had a lot of nerve," said John O'Hara, a retired photographer who worked with Rosenthal at the Chronicle.
Born in Washington, D.C., on Oct. 9, 1911, Rosenthal took up photography as a hobby. During the Depression, he moved to San Francisco, living with a brother until he found a job with the Newspaper Enterprise Assn. in 1930.
Besides his daughter, Rosenthal is survived by his ex-wife Lee Rosenthal, his son, Joseph J. Rosenthal Jr., and their families.
Copyright 2018 The Associated Press. All rights reserved. This material may not be published, broadcast, rewritten or redistributed. We strive to uphold our values for every story published.