In the dining room of Curtis Hall, Jared Charley just arrived but could already feel the difference between Lawrence and his home town of McNary, Ariz.
"It's different than where I'm from," Charley said. "Hotter, more humid."
Charley became part of Haskell Indian Nations University's incoming freshman class Saturday, winding his way through orientations, meals and information booths that greeted new students from 130 tribes peppered throughout the U.S.
More than 800 students fill the residence halls of Haskell every year, and more than 100 freshmen and transfer students walked along the pathways of campus for the first time Saturday.
With them came the largest group of parents the university has ever seen, outgoing Haskell President Karen Swisher said.
The parents packed a 10 a.m. orientation meeting and followed students from one stop to the next on campus during the day.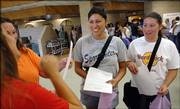 Swisher said the number of family members accompanying sons and daughters was a good sign for many of the incoming students, as she equated the close family contact with students ready to succeed.
Classes begin Wednesday, Swisher said.
Housing Director Jim Tucker said orientation is often just as important for parents as it is for students. Sure, the students are nervous, tentative even, but many parents are suddenly facing life without a child for the first time.
"A lot of times, the parents are already missing their kids before they drop them off," Tucker said.
As for the students, Tucker said, it takes a few weeks to get used to being away from home - but many students enjoy the freedom that college life provides.
Outside Curtis Hall, Kristen McGirt walked along campus sidewalks with her family. A transfer student from Seminole State College in Oklahoma, McGirt said her first stroll through campus was going as well as could be expected.
"It's OK so far," she said, carrying a bag of school supplies. "I've just never left home before. It's a new environment."
As for McGirt's mother, Lahoma Roberts, she wasn't sure how she felt about her daughter leaving home for the first time.
Excited? Nervous?
"It could go both ways," Roberts said.
Copyright 2018 The Lawrence Journal-World. All rights reserved. This material may not be published, broadcast, rewritten or redistributed. We strive to uphold our values for every story published.