Caro, Mich. — The FBI said Monday it had no information to indicate that the three Texas men arrested with about 1,000 cell phones in their van had any direct connection to known terrorist groups.
Also, a prosecutor in a separate Ohio case said he can't prove a terrorism link to two men arrested after buying large numbers of cell phones and will drop terrorism charges against them.
In the Michigan case, authorities had increased patrols on the 5-mile-long Mackinac Bridge after local prosecutors said investigators believed the men were targeting the span.
Local authorities didn't say what they believed the men intended to do with the phones, most of which were prepaid TracFones, but Caro's police chief noted that cell phones can be untraceable and used as detonators.
The FBI issued a news release Monday saying there was no imminent threat to the bridge linking Michigan's upper and lower peninsulas.
The release also said the FBI had no information indicating that the men, Palestinian-Americans living in Texas, had any direct links to any known terrorist groups or to the alleged plot to bomb trans-Atlantic jetliners that was announced in London last week.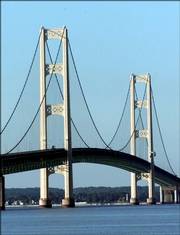 William Kowalski, assistant special agent in charge of the FBI's Detroit field office, said authorities believe concern about the bridge was connected to images of the Mackinac Bridge found on a digital camera belonging to the men.
Kowalski said there was nothing illegal about buying cell phones in bulk, but that profits from that kind of activity can be suspicious.
Adham Abdelhamid Othman, 21, of Dallas, and Maruan Awad Muhareb, 18, and Louai Abdelhamied Othman, 23, both of Mesquite, Texas, were stopped by police Friday outside a Wal-Mart store in Caro, about 80 miles north of Detroit after employees became suspicious when they purchased about 80 cell phones.
Local prosecutors charged them with collecting or providing materials for terrorist acts and surveillance of a vulnerable target for terrorist purposes.
The men told a magistrate Saturday that they were buying the phones for resale.
In Ohio, prosecutor James Schneider said he didn't have enough evidence to present felony terrorism charges for Ali Houssaiky and Osama Abulhassan, both of Dearborn, Mich., to a grand jury.
The two men face a misdemeanor count of falsification accusing them of lying about why they bought the phones, Schneider said.
The FBI is reviewing the Ohio case and staying in touch with local authorities. No federal charges are pending, said special agent Mike Brooks of the FBI.
Authorities stopped the men on a traffic violation in Marietta, Ohio, on Aug. 8 and said they found airplane passenger lists and information on airport security checkpoints, along with $11,000 cash and 12 phones, in their car.
Abulhassan and Houssaiky admitted buying about 600 phones in recent months at stores in southeast Ohio and selling them to someone in Dearborn.
Defense attorneys said the government had no evidence the phones were being used illegally and the men planned to resell the phones simply to make money. They also said the airport and airplane information were old papers left in the car by a relative who worked at an airport.
Copyright 2018 The Associated Press. All rights reserved. This material may not be published, broadcast, rewritten or redistributed. We strive to uphold our values for every story published.