New York — Faced with Britain's announcement of a foiled terrorist plot to bomb passenger jets bound from the United Kingdom to the U.S., Americans' reactions Thursday ranged from the unflinching to the unnerved. But, just a month shy of the fifth anniversary of the Sept. 11, 2001, attacks, few called the news unexpected.
A terror threat, many said, no longer shocks as it once did. "There's always the idea it could happen again," said Tom Goodman, president and chief executive officer of Goodman Media, a public relations firm in New York. "This is the world we live in and it's going to be like this for a long, long time."
After hearing about the alleged plot involving a number of American airlines, Goodman and his family debated Thursday whether to make their planned departure next week for a long-anticipated vacation in England.
"Now, with the news this morning, our plans are in upheaval. We have lots of deposits in lots of places. Are we going to go or not go? We're leaning toward not going," he said, citing the complicated security situation at the airports as more of a negative factor than fear of an attack. The couple and their two children could wind up taking a road trip to Montreal instead, he said.
Geri Polin, 76, of Los Angeles, found herself in much the same travel situation as Goodman, but was far less sanguine. She and her husband, Allan, had just booked a mid-October trip to England to celebrate Allan's successful nine-month battle against bladder cancer.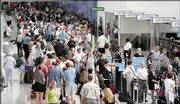 "I don't want to sound like a wuss - he'd probably go with no qualms - but I have second thoughts about it," said Polin, while doing physical therapy at her gym. "I don't feel that the world will ever be the same because of the terrorists. You're dealing with a hysterical woman who doesn't want to get on an airplane."
Wall Street for its part seemed to take it all in stride, with the Dow Jones Industrials index up nearly 50 points at closing.
In New York City, Ingrid Olsen found herself unsettled by the alleged plot. "It only reinforced my fear and insecurity," said the sales director, taking an afternoon break with a colleague on the plaza in front of their Manhattan office building. "It's not a matter of if, it's a matter of when. And it doesn't have to be in New York and it doesn't have to be on a plane, either."
Some Arab and Muslim-Americans, already feeling themselves under suspicion after 9-11, feared a backlash. "It is inevitable. In moments of stress, people strike out," said James Zogby, head of the Washington-based Arab American Institute.
In fact, a USA Today/Gallup Poll released Thursday showed that 39 percent of Americans professed some prejudice against Muslims, 22 percent said they don't want a Muslim neighbor and 31 percent said they would be nervous if they noticed a Muslim man aboard their flight.
In the Detroit suburb of Dearborn, the nation's largest concentrated Arab community, Thursday's news was greeted with a here-we-go-again response.
"This is very chilling to me. I'm almost becoming accustomed to news that a Muslim is doing something reprehensible," said Abed Hammoud, who ran for mayor of Dearborn in 2001.
Often lost in the initial reaction to news of terrorism, Hammoud said, is that innocent Muslims are at risk, too. "I just hope they don't paint us all with a broad brush," he said, noting that he is worried for the safety of his brother who is scheduled to fly out of London next week with his wife and two children.
In Chicago, graphic designer Sharon Maloy said her initial anxiety about the plot quickly gave way to anger about the Bush administration's policy in the Middle East.
Maloy and her husband, Mark Raulston, both 37, said they feel no immediate threat to their personal safety, but the couple said they cannot shake the fear that their 2-year-old daughter will inherit a more dangerous world where Americans are demonized by much of the international community.
"You feel like they (administration) are going to use this (incident) to justify the conflict in the Middle East and the war in Iraq," Maloy said. "We're creating more enemies, and it feels as if our security situation is less stable now than it was five years ago."
Copyright 2018 The Lawrence Journal-World. All rights reserved. This material may not be published, broadcast, rewritten or redistributed. We strive to uphold our values for every story published.