April Davies has lived outside of what she calls the "energy hog culture."
The 2001 Kansas University graduate spent more than two years with the Peace Corps in El Salvador, where she relied on a refrigerator, a light bulb and a radio.
"When I came home, that's when I was like, 'Whoa, I have a lot of stuff,' and it's stuff that's on all the time," Davies said Tuesday as she sat down with her laptop computer at Borders Books Music & Cafe, 700 N.H.
Davies isn't alone in her demand for electricity: Westar Energy's Kansas customers used a one-day record of 4,938 megawatts on July 19. One megawatt can power about 300 homes for a day.
Westar spokeswoman Karla Olsen said the company attributes the record to more than just air conditioners cranking.
Technology advancements and lower prices have increased demand for household electronic devices such as televisions, computers and cell phones.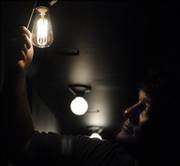 The average family in Westar's northern region, which includes Lawrence, annually used 13 percent more energy in 2004 compared with 1993.
"We have seen usage increase with more televisions, computers, DVD players," Olsen said. That, combined with the heat and population growth, helped produce Westar's record day.
David Linhardt, a KU senior from Roeland Park, notices the prevalence of electronic toys every time he goes to class. Students have cell phones, iPods, Palm Pilots and other small devices, which is a change from 10 years ago.
He and his roommates have loaded their apartment with a surround-sound stereo system, televisions, a VCR, a DVD player and two computers. But air conditioners seem to be the killer, he said.
Electric bills typically spike during the summer thanks to increased air-conditioning use. Westar calculates the average household in Lawrence used more energy last month than the normal July. Based on average rates, it could make bills about $12 higher than a year ago.
As more energy is consumed, the utility company has begun evaluating sites for a new generating facility, which it hopes for by 2008, and a future coal-fired plant to help meet demand.
On its Web site, Westar offers energy-saving tips to residential customers, such as replacing incandescent light bulbs with compact fluorescent ones and raising the thermostat slightly in the summer.
The federal government's Energy Star program also promotes the most energy-efficient home and office appliances.
As the debate continues on sources of energy, some think dependence on electricity damages social life as well.
By the numbers
Electricity use on July 19 by Westar Energy customers: 4,938 megawatts
One megawatt can provide a day's worth of power for 300 homes
Bran Belglwynn, a theoretical psychologist from Lawrence, said he spent about 10 years living in the wilderness in Kansas and Wyoming.
"You're really happy and really in touch with yourself and your environment," Belglwynn said.
Now he doesn't own a television or many other electronic devices, but he does have a computer, central air conditioning and electric heaters.
Davies, the former Peace Corps volunteer, said she was more conscious about turning off the lights and televisions after learning to live without many electronic devices in El Salvador.
"But mostly," she said, "I just went back to being an energy hog again."
-->
Copyright 2018 The Lawrence Journal-World. All rights reserved. This material may not be published, broadcast, rewritten or redistributed. We strive to uphold our values for every story published.