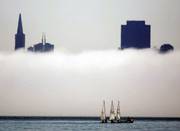 SACRAMENTO, CALIF. — Scorching heat pushed California's electricity supply to the brink Monday as authorities investigated at least 29 possible heat-related deaths, most in the smoldering Central Valley where temperatures reached 115 degrees over the weekend.
An eighth day of intense heat pushed electricity usage to a peak of 50,270 megawatts - a record for California but still short of the 52,000 megawatts experts had predicted for the day.
"It appears we have ridden out this mammoth peak demand without any problems," said Stephanie McCorkle, spokeswoman for the California Independent System Operator, which manages the state's power grid. "This was the most strained the system has ever been."
Meanwhile, utilities in the St. Louis area and New York City labored to restore power to hundreds of thousands whose electricity was knocked out by storms and equipment failures.
Hoping to avoid involuntary rolling blackouts in California, ISO declared a "Stage 2" emergency, which calls for businesses to reduce their power usage in exchange for lower rates. Gov. Arnold Schwarzenegger also directed state agencies to reduce electricity use by 25 percent by turning off unnecessary equipment; he urged local and municipal governments and universities to do the same.
The reductions appeared to work. By 5 p.m. ISO officials said the threat of rolling blackouts had passed.
Tens of thousands of homes and businesses lost power in California on Sunday because of heavy electricity use and high temperatures that caused transformers and other equipment to overheat. Some 50,000 customers in northern California still were without power, including 35,000 in San Jose and the East Bay.
Copyright 2018 The Associated Press. All rights reserved. This material may not be published, broadcast, rewritten or redistributed. We strive to uphold our values for every story published.