New York — Blistering heat settled over the eastern half of the nation Tuesday, sending man and beast in desperate search of relief: An air-conditioned subway car in New York City. A plunge into the Atlantic Ocean in New Jersey. And cold showers for suffering livestock in Ohio.
The same heat wave that was blamed for as many as 164 deaths in California brought a fifth straight day of oppressive weather to Chicago and promised at least three days of brow-mopping temperatures in the New York metropolitan area.
Residents on Chicago's South Side were evacuated from buildings by the hundreds, one day after the power went out to 20,000 customers. Illinois officials blamed three deaths on the heat. The blistering temperatures also scorched Conyers, Ga., where a high school football player died one day after collapsing at practice.
By midafternoon, the temperature in Chicago was 100, Baltimore reached 99 and Washington hit 97, though the humidity made it feel like 107. In New York, it was 95 in Central Park and 100 at LaGuardia Airport in Queens.
"I am pretty much dying," said Grace Hartmann, a New York University student. "I'm from California, where it's not this hot and not humid. To be honest, I can't believe it's going to be hotter" today.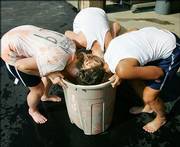 The National Weather Service said the mercury could reach 104 today, and Thursday could be bad, too.
"This is a very dangerous heat wave," Mayor Michael Bloomberg said. "It's more than just uncomfortable. It can seriously threaten your life."
With a disastrous 10-day power outage in Queens still fresh in memory, New York City adopted energy conservation measures. Thermostats in city offices were set at 78, up from the usual 72, and large municipal installations such as the Rikers Island jail used backup generators.
The New York skyline will reflect the cutbacks, with lights turned down on the Empire State Building and the Chrysler Building. The giant Pepsi-Cola sign on the Brooklyn waterfront was to be dimmed, as were the lights illuminating the George Washington Bridge, the Brooklyn Bridge and other spans.
Utilities in New York and Pennsylvania set records Tuesday for peak electricity demand. Erin O'Brien, a spokeswoman for the agency that oversees electricity usage in six New England states, said demand today could surpass the one-day record set just two weeks ago. Demand was just shy of the record Tuesday, she said.
Copyright 2018 The Associated Press. All rights reserved. This material may not be published, broadcast, rewritten or redistributed. We strive to uphold our values for every story published.