Vienna, Austria — Famed soprano Elisabeth Schwarz-kopf, a 20th century legend who won global acclaim for her renditions of Mozart and Strauss, died Thursday at her home in western Austria, state television reported. She was 90.
Schwarzkopf, ranked alongside Maria Callas as a giant of the opera and concert stage, died about 1:15 a.m. in the town of Schruns in Austria's westernmost province of Vorarlberg, where she most recently lived, state broadcaster ORF said, citing a local funeral home director. No cause of death was given.
Schwarzkopf, who retired in 1975 after many years living outside Zurich, Switzerland, captivated audiences and critics alike during a career that spanned four decades.
Her leading roles, ranging from Elvira in Mozart's "Don Giovanni" to the Marschallin in Richard Strauss' "Der Rosenkavalier," were immortalized on records and CDs. So were her recitals of lieder - German songs of a lyrical, often popular character.
After her retirement she admitted having applied to join the Nazi Party in 1939, but she said it was "akin to joining a union" so that she could further her singing career.
She was an aunt of U.S. Gen. H. Norman Schwarzkopf, who led American forces in the first Gulf War against Iraqi forces occupying Kuwait in 1991.
Performing with an array of famous conductors, including Wilhelm Furtwaengler, Otto Klemperer, Vittorio de Sabata and Herbert von Karajan, she was what Italian opera aficionados would call a "diva assoluta" - an absolute star.
Schwarzkopf was born Dec. 9, 1915, in Jarotschin in what was then eastern Germany, but which became the Polish town of Jarocin in the redrawing of national boundaries after World War I ended three years later.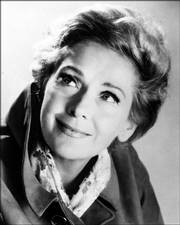 Her family moved to Berlin, where she became a prize-winning student at the Berlin Hochschule fuer Musik, now part of the Berlin University of the Arts.
A wrong analysis by her first voice teacher, who thought she was a contralto, almost thwarted her ambitions, she recalled later. Her mother recognized the danger and made her change teachers.
Schwarzkopf first was paid to sing as a member of the chorus in a 1937 recording of Mozart's "The Magic Flute" under the baton of Sir Thomas Beecham.
Tuberculosis forced her to rest for a year, just after she was signed by the Vienna State Opera. Following recovery in 1944, she could sing only a few weeks in Vienna before Allied air raids sent the curtains falling on all stages.
American CARE parcels were her pay for entertaining U.S. soldiers in the early postwar days. But when European opera houses reopened, her reputation grew rapidly with Vienna, Salzburg, Bayreuth and Milan's La Scala among early milestones.
Her U.S. debut came in 1953, after her marriage to Walter Legge, an English recording company executive and founder of the Philharmonia Orchestra.
Her farewell to the stage came in 1971 at the Brussels Opera in "Der Rosenkavalier." Her recitals continued to draw capacity audiences until her last appearance in Zurich, three days before her husband died in 1979.
Schwarzkopf, who had teamed with her husband in conducting a series of master classes at the Juilliard School in New York City in 1976, remained much in demand as a teacher.
Copyright 2018 The Associated Press. All rights reserved. This material may not be published, broadcast, rewritten or redistributed. We strive to uphold our values for every story published.