Paul Atchley is trying to be scientifically correct - not politically incorrect - when he says using a cell phone while driving is as dangerous as driving while drunk.
"Someday society will understand that people are dying because of cell phone use by drivers, and then the laws will change," said Atchley, an associate professor of psychology at Kansas University who has done research on causes of inattentive driving.
The days of a law change may be coming sooner rather than later in Lawrence. Members of the city's Traffic Safety Commission are set to debate two proposals on Monday that would ban cell phone use by motorists younger than 18 and create stiffer fines for all cell phone users involved in accidents.
On Friday, several traffic safety commissioners said they were willing to go a step further and consider an outright ban of wireless phones - both hands-free and hand-held devices - by all drivers in the city limits.
"If you're going to ban it, you should ban it across the board," said Richard Heckler, a traffic safety member. "I know teenagers carry part of the burden, but they certainly aren't the only reckless people in town."
Any decision by the Traffic Safety Commission - which will meet at 7:30 p.m. Monday at City Hall - would have to receive final approval from city commissioners.
The issue likely will be watched by many. Members of the wireless telephone industry said Friday that they particularly did not like that the ban would include hands-free devices.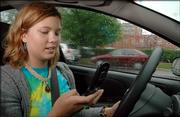 "We would certainly oppose a complete ban," said Jamie Hastings, director of government affairs for T-Mobile USA, who said her company generally didn't oppose laws that only ban hand-held devices. "We think there are distractions just as great. I suppose if you also want to ban McDonald's coffee and kids in the back seat, then we wouldn't oppose it."
Others also said they had questions about the ban, though many agreed it likely would improve safety.
"It seems like a little too much government regulation," said Eudora resident Jennifer Lawler, who was in downtown Lawrence on Friday.
But several traffic safety commissioners said they thought there was growing evidence that using a cell phone while driving was exceedingly dangerous.
"The data is hard to ignore," said Bob Hagen, a traffic safety member.
Atchley provided information to the Traffic Safety Commission last fall when the idea of a Lawrence ban emerged. He said studies by both the New England Journal of Medicine and the British Medical Journal found that drivers using a cell phone increased their chances for having an accident more than 400 percent, which is the same risk factor for drunken drivers.
-->
But Hastings, the T-Mobile spokeswoman, said Lawrence leaders should be cautious about relying on such limited data because "there's science on both sides of the aisle."
Although Monday's discussion may evolve into one about a complete ban on cell phone usage by motorists, the Traffic Safety Commission technically has just two proposed ordinances in front of it.
The first would impose a $120 fine - twice the normal fine for inattentive driving - for any driver using a cell phone while involved in a vehicle accident.
The second ordinance would prohibit use of wireless communication devices - everything from phones to computers - by motorists younger than 18 years old. The fine for violations would be $100.
On Friday that ordinance drew the ire of some Lawrence High School students, who said the law wouldn't recognize that many members of their generation had been using the devices most of their lives.
"I think it is probably older people who aren't used to talking on the phones who are more dangerous than the younger users," said Wade Billings, a 16-year-old student who said he used his cell phone about every other time he's in his car. "For some people it might be a distraction, but it doesn't distract me."
Copyright 2018 The Lawrence Journal-World. All rights reserved. This material may not be published, broadcast, rewritten or redistributed. We strive to uphold our values for every story published.