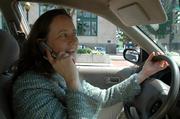 Driver's education class didn't teach Bob Lewis how to deal with this.
"I think the only time I have ever had a real close call in a car, it has been when some other motorist is paying more attention to their cell phone than to their driving," said Lewis, a Lawrence resident and retired Kansas University employee. "I felt like I had to do something partially in self-defense."
What Lewis did was complain to the city's Traffic Safety Commission. As a result, traffic safety commissioners will soon discuss a proposal to ban all drivers in the city limits from using a cell phone.
Lewis didn't propose a specific ordinance, but said he would like for a ban to also prohibit the use of hands-free or speaker cell phones because research shows they're just as dangerous.
"Driving really demands your total attention," Lewis said. "Your mind can't really be on another subject."
Growing trend
Several other communities and states agree. In 2001, New York banned cell phone use by drivers statewide. Since then, 10 other states and the District of Columbia have implemented some sort of cell phone ban - some prohibiting their use by all drivers and others putting phones off-limits only to novice drivers.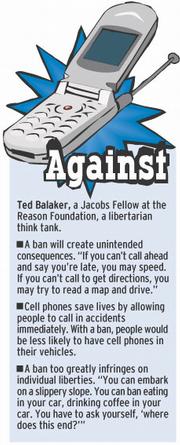 This week, the National Transportation Safety Board urged all states to ban novice drivers from using wireless phones.
David Strayer - a psychology professor at the University of Utah who has conducted more than 20 research studies on cell phones and driver safety - said the science behind the bans was solid.
"The risks are quite substantial," Strayer said, noting that many studies have found the risk of an accident increases fourfold when a driver is on a cell phone.
Sgt. Dan Ward, a spokesman with the Lawrence Police Department, doesn't have any formal study to fall back on, but he's pretty sure cell phone usage does cause a problem on Lawrence streets.
"I know there are a lot of drivers with a cell phone up to their ear," Ward said. "Any time you are trying to do something other than paying full attention to driving, it can cause an accident."
Questions arise
Several traffic safety commissioners on Wednesday said they wanted to learn more about the issue but worried the ordinance could be difficult to enforce.

"There's no reason to do it if you can't enforce it," said Carol Bowen, a traffic safety commissioner. "If you can't enforce it, that would just create frustration."
Ward said enforcement would rely on police officers observing a driver using a cell phone, which he said was not much different from viewing a person running a traffic light.
A study by the Insurance Institute for Highway Safety found that in the months after the implementation of the New York ban, the rate of drivers talking on cell phones fell from 2.3 percent to 1.1 percent. But one year later, the rate had risen back to 2.1 percent.
Danny Drungilas, another traffic safety commissioner, said the city might be able to consider other options. He suggested increasing the fines for any driver who was using a cell phone during an accident.
"Whatever we would do probably would be pretty controversial," Drungilas said.
A part of life
Driver reaction was mixed.
"I guess I would kind of agree with it because I know that when I do it, I'm a bit distracted," said Jeff Hansen, a Topeka resident who was in downtown. "If it would stop someone from running into me, I would be for it."
-->
Heather Lancaster, a Lawrence resident, said she thought any future ban wouldn't be taken very seriously by residents.
"But lots of things we do aren't good for us," Lancaster said.
Beverly Purcell, an agent with Lawrence-based Allen and Purcell Insurance, said the insurance industry was beginning to frown on cell phone usage by drivers. Strayer, the researcher, said he believed that cell phone usage may some day become a factor in how companies set insurance rates.
Purcell, though, said she thought the issue was a bit overblown.
"I don't think a cell phone creates any more of a problem than a billboard that is tough to read or a road sign that is not real well placed," Purcell said. "All of them require you to take your eyes off the road and divert your attention. I think these bans are a bit of a fad and people are just picking on cell phones."
The Traffic Safety Commission meets at 7:30 p.m. Oct. 3 at City Hall, Sixth and Massachusetts streets. Any ban would need ultimate approval from the Lawrence City Commission.
Copyright 2018 The Lawrence Journal-World. All rights reserved. This material may not be published, broadcast, rewritten or redistributed. We strive to uphold our values for every story published.