Washington — President Bush said Friday the national anthem should be sung in English - not Spanish - in a blunt rejection of a new Spanish-language version. He also expressed opposition to a national work stoppage called for Monday to dramatize the importance of immigrants to the U.S. economy.
"I'm not a supporter of boycotts," Bush said, while restating his support for a comprehensive overhaul of immigration laws.
Bush made his comments at a Rose Garden news conference as a Spanish-language version of "The Star-Spangled Banner," hit the airways featuring artists such as Wyclef Jean, hip-hop star Pitbull and Puerto Rican singers Carlos Ponce and Olga Tanon.
Called "Nuestro Himno" - "Our Anthem" - the Spanish version rewrites some of the English version. For instance, the second stanza says, "My people keep fighting. It's time to break the chains."
"I think people who want to be a citizen of this country ought to learn English and they ought to learn to sing the national anthem in English," Bush said.
Monday's planned boycott and the emergence of a Spanish-language anthem are ingredients in a national debate over how to deal with an estimated 11 million illegal immigrants in the United States. It is an issue that has sent hundreds of thousands of protesters into the streets of major U.S. cities to demand the lowering of citizenship barriers. Congress is struggling to deal with the issue, and the House and Senate are moving on opposite tracks.
"I understand how difficult this issue is for some people here in Washington and around the country," Bush said. His approach calls for a temporary guest worker program, tougher enforcement of laws against hiring illegal immigrants and stricter border controls.
Acknowledging that it has become a highly charged topic, Bush said, "One of the things that's very important is when we debate this issue that we not lose our national soul."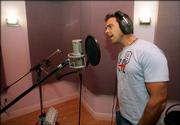 British music producer Adam Kidron, who came up with the idea of the Spanish anthem, said it was not intended to discourage immigrants from learning English or embracing American culture.
"We instead view 'Nuestro Himno' as a song that affords those immigrants that have not yet learned the English language the opportunity to fully understand the character of 'The Star-Spangled Banner,' the American flag and the ideals of freedom that they represent," Kidron said in a written statement.
Sen. Lamar Alexander, R-Tenn., said he would introduce a Senate resolution Monday "giving senators an opportunity to remind the country why we sing our national anthem in English." Noting that America is a nation of immigrants, Alexander said, "We are proud of the countries we have come from, but we are prouder to be Americans."
Monday's protest is dubbed "A day Without Immigrants." Activists are urging immigrants across the United States to skip work, avoid spending money and march in the streets. But there are concerns that such protests will make immigrants look anti-American, annoy the public and alienate lawmakers in Washington
Senate leaders, meanwhile, edged closer to an agreement that could clear the way for passage of broad immigration legislation.
Senate Democratic Leader Harry Reid told reporters he was dropping two demands that contributed to gridlock several weeks ago. He said he would no longer insist that conservative critics be limited to three chances to change the bill before it passes. And he said he would no longer try to dictate which Republicans are named to negotiate a final bill with the House.
Senate Majority Leader Bill Frist has said he wants votes on 20 or more amendments, and that it is not up to Democrats to decide which Republicans are picked to bargain with the House. At the same time, he has been meeting privately with fellow Republicans this week to reduce the number of amendments.
Reid made his comments three days after a White House meeting that was designed to impart fresh momentum in the drive for election-year legislation. Senators of both parties emerged from the session praising the president's involvement.
Supporters of the Senate legislation claim roughly 70 votes for their bill. It includes provisions to strengthen the nation's borders, expand a guest worker program and give many of the nation's illegal immigrants an eventual opportunity to become citizens.
Legislation passed by the Republican-controlled House last year is limited to border security, and makes illegal immigrants vulnerable to criminal felony charges.
Copyright 2018 The Associated Press. All rights reserved. This material may not be published, broadcast, rewritten or redistributed. We strive to uphold our values for every story published.