Craig Stucky and his high school friends have priorities, you know.
Like they want to look good without their shirts on this summer. So lately they've been eating healthier and exercising more, lifting weights between trips to the skate park.
"It might be a fad. I'm not sure," says Stucky, an 18-year-old senior at Lawrence High School. "We're self-conscious teenage kids."
But there's more to it for the wryly comedic Stucky. His parents have high cholesterol, and he figures he has a good chance of developing it as well.
So when the opportunity arose for the aspiring artist to enter a contest that allowed him to combine that autobiographical fact with his love of painting, he grabbed it. Stucky is one of three entrants in "Hats Off," a statewide hat-design competition sponsored by the Kansas Psychological Assn. The hats will be on display at the Phoenix Gallery, 919 Mass., during this week's Downtown Friday Gallery Walk.
Entrants were challenged to construct a hat that represents some aspect of mind-body health, focusing on either stress, obesity or heart disease. Stucky chose the latter.
He decided a nurse's hat would best symbolize the health field, tracked down a pattern at a costume-design Web site and made one from scratch out of canvas. He stitched a white canvas cross to the front and firmed it up by adding a piece of illustration board to the back. Then he got creative with paint.
"I just kind of tried to think of what heart disease was and what it was like living with a heart condition," Stucky says. "You're really restricted. You can't be as energetic as you want to be. It restricts your freedom."
Using birds as a symbol of that freedom, Stucky painted a large white bird whose foot is tethered to a fairly unhealthy, obese human heart. A few smaller birds struggle with the same plight off in the distance.
"I put them further away, kind of trying to symbolize the early stages of heart disease," Stucky says. "You don't even notice it really."
Dead birds, rendered with subtlety, form a pile at the base of the hat, which he titled "Disease Leash."
Photo Gallery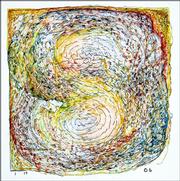 Young artists
Lawrence artist David Van Hee and Olive Gallery owner Jill Kleinhans will select a winner from among four hats submitted by the trio of contestants. First prize is $300, and the second-place winner will receive $150. The hats will be displayed until May 14 at the Olive Gallery, 15 E. Eighth St., and then auctioned at 2 p.m. May 13 in Joseph R. Pearson Hall at Kansas University. The artists will retain half the proceeds.
The rest of the funds will start a public education fund for the Kansas Psychological Assn.'s Mind-Body Foundation, which is partnering with the American Psychological Assn. in its new public education campaign, "Mind/Body Health: For a Healthy Mind & Body, Talk to a Psychologist." The goal is to promote psychologists as the best candidates trained to help the public understand the intersection of psychological and physical health - the mind-body connection.
Kellie Westenfeld, a foundation volunteer and a graduate student in the counseling psychology program at KU, says organizers got a late start in promoting this year's art contest but hope it can grow next year.
"The American Psychological Association just in the past year or two started the whole mind-body craze, and they asked each state to do something creative to promote this," she says. "We're kind of piggybacking on an idea that Kentucky did with fiberglass heads. They had a really good response to that, like 100 heads that were decorated."
LHS student Stucky estimates his project took him eight or nine hours to complete, working at home and in an independent study art class at school. He's excited to be featured on the gallery walk, and anxious to see the other hats created for the show.
In the meantime, he's refining his portfolio and hoping to attend the California College of the Arts in the fall, where he's undecided whether he'll major in illustration or printmaking. Either way, his goal is eventually to show and sell his work in galleries.
"That's the dream, I guess," he says.
Participating venues and artists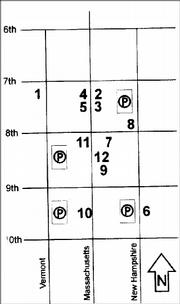 Here's a look at some of the participating venues and featured artists on April's Downtown Friday Gallery Walk:
¢ Fields Gallery, 712 Mass., 842-7187, www.fieldsgallery.com, featuring "The Garden: Season to Season," recent works on paper and a thread piece by Colette Bangert.
¢ It's About Time, 816 Mass., 842-1500, www.metalartist. com, featuring Wastenots artist Suzanne Perry and Michael Schwartz, chef at Ital Kitchen.
¢ Kimbari, 822 Mass., 842-1067, www.kimbari.net, featuring new oil paintings by Mike McCaffrey.
¢ KOJO, 745 N.H., 841-5656, www.kojoworkshop.com, featuring a going-out-of-business sale. The gallery will close at the end of May, but owner Carl Masters will continue his custom furniture business, KOJO Workshop.
¢ Lawrence Arts Center, 940 N.H., 843-2787, www.lawrenceartscenter.com, featuring Lawrence Public School Art Exhibition.
¢ Lawrence Public Library, 707 Vt., 843-3833, exhibits sponsored by the Lawrence Art Guild, www.lawrenceartguild. org, featuring "Little Fingers, Big Imaginations," art by preschoolers, gallery; "Seven Women Artists," entrances, cases and lower level; "Photographs of China," by Megan Embers, auditorium.
¢ Olive Gallery and Art Supply, 15 E. Eighth St., 331-4114, www.oliveart.org, featuring "Practice Holding Still," new works by Paul ¢ Phoenix Gallery, 919 Mass., 843-0080, www.phoenixgallery.biz, featuring the "Hats Off to Mental Health" hat-design competition.
¢ Signs of Life Gallery, 722 Mass., 830-8030, www.signsoflifegallery.com, featuring "Dear Old Kansas," works by Jim Brothers, Stan Herd, Bill Snead, Justin Marable and John Hendrix. Gallery talk: Author Thomas Fox Averill talks about the connections between the visual aspects of Kansas in his writing and the art in the exhibition, 7:30 p.m. May 1.
¢ Silver Works and More, 715 Mass., 842-1460, featuring wood-fired stoneware and porcelain by Willem Gebben, artist's brushes by Keith Lebezon and glass stone pendants by Melanie Ungvarsky.
¢ Southwest and More, 727 Mass., 843-0141, featuring hand-crafted leather by Vania Letica Escauriza and David Aaron Martinez. Trunk show with artists continues 10 a.m.-5 p.m. Saturday.
Copyright 2018 The Lawrence Journal-World. All rights reserved. This material may not be published, broadcast, rewritten or redistributed. We strive to uphold our values for every story published.