Audio Slideshow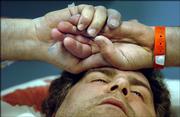 LMH's Emergency Room
On the popular television show "ER," someone, it seems, is always mad about something.
Doctors bark at nurses, who, in turn, feel unappreciated. Drama and chaos abound.
The place is tense, loud.
That's not what it's like at the emergency room at Lawrence Memorial Hospital.
"It does get tense at times, but I have to say it's not as dramatic as it's portrayed on TV," said Joan Harvey, director of emergency services at LMH.
For starters, it's quiet.
Everyone is busy, hustling from room to room. They know what they're doing. There's no need to yell.
But it's not just the noise level. Here, no one is in charge, while, at the same time, everyone is in charge.
The doctors here don't bark at the nurses because they're on the same team. They're partners. They don't compete, they complement.
"There is a charge nurse," Harvey said, "but, yes, we stress that nobody's job is more important than anybody else's. It's totally a teamwork effort."
Related Content
Audio clips with Dr. Scott Robinson, director of LMH emergency department
Stories
Everyone who's working in the emergency room wants to be there. There are few malcontents.
"I really like it here," said Stephanie Transue, a 36-year-old registered nurse from Tonganoxie.
"Out of all the places I've seen, this is best place to work," she said. "We have a good bunch of people here. We're a team. We work through a lot of adversity together."
Dr. Scott Robinson, medical director at the emergency department, said that "the adversity we deal with is not what most people think it is. It's not the trauma case coming in; we're trained to handle that. It's the homeless guy who's got a problem - it would be a simple problem if he had a place to live and someone to take care of him. But he doesn't, so it becomes a major problem.
"And here we are on a Sunday afternoon or a holiday, trying to come up with something when the resources aren't available. But we can't just cut the guy loose."
Robinson and Harvey said they are sensitive to the often-heard complaint that patients shouldn't have to wait two, three or four hours - sometimes longer - to be treated.
Some waits are, indeed, too long, Harvey said. But most are not.
"The CDC (Centers for Disease Control) standard for emergency room waits is 194 minutes," Harvey said. "Our average wait is 155 minutes."
Oftentimes, Robinson said, long-wait complaints are fueled by patients being unaware of other patients' diagnoses.
"Some of that's our fault," he said. "We close the door - because of privacy concerns, we don't let people know what's going on. You could be sitting in your room, thinking there's nothing going on, when two doors away there's a major trauma."
A few years ago, Robinson said, doctors and nurses spent several intense minutes trying to resuscitate a 4-year-old girl who had drowned in a bathtub.
"We did everything we could, but it wasn't enough," he said.
"For everybody in that room, it was an absolutely devastating experience."
A few minutes later - about 2 a.m. - Robinson was confronted by a mother who wanted to know why nobody was paying attention to her 4-year-old daughter, who had a slight burn on her finger.
She had waited two hours and thought that was long enough.
"Let's just say it was everything I could do to not be unpleasant to that woman," Robinson said.
Copyright 2018 The Lawrence Journal-World. All rights reserved. This material may not be published, broadcast, rewritten or redistributed. We strive to uphold our values for every story published.