A sexual assault victim is in one room.
A Kansas University student with the mumps is in another. She's running a serious fever.
Christee Thoman, a mother of five, is here with her 2-month-old son, Finias.
"He has some kind of pneumonia," Thoman says. "He's been coughing for like two or three minutes at a time. It's pretty bad. He's been turning purple."
By 11 p.m. this particular Saturday, most of the 16 beds at Lawrence Memorial Hospital's emergency room are full. They'll stay that way until about 3 a.m.
"We're not some podunk emergency department," says Dr. Scott Robinson, director of the emergency department. "Thirty thousand visits is big time. We see everything - soup to nuts."
The department last year logged 30,138 patient visits - an average of 85 per day.
Among the emergency rooms in and around Kansas City, only two - "Shawnee Mission and KU Med," Robinson says - are busier than the one at LMH.
It is busy and cramped.
"This emergency room was designed for seeing 17,000 patients a year, back in the 1970s," Robinson says. "That was before the advent of computers. So if you look around, you'll see that just about all the available counter space is taken up with computers. There really isn't a place to sit down and write."
Audio Slideshow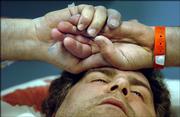 LMH's Emergency Room
And not all the rooms are as functional or as private as they could be.
LMH Endowment Assn. recently launched a $40 million fundraising campaign aimed at converting the hospital to all private rooms, improving surgery and nursing facilities and building a new maternity ward and a new emergency department.
"We hope to have a new emergency room in two years," says Robinson, who's also on the association's board of directors.
If all goes as planned, the new emergency room will take up the first floor of a three-story addition to be built near the hospital's Maine Street entrance. The second floor will be an expanded intensive care unit; the third floor will be obstetrics.
The new emergency room will have between 22 and 25 beds.
Related Content
Audio clips with Dr. Scott Robinson, director of LMH emergency department
Stories
'Vital service'
Though owned by the City of Lawrence, LMH is considered a nonprofit, stand-alone community hospital. It is not subsidized by the city or by Douglas County.
That doesn't mean it's a money maker.
According to LMH records, the emergency room cost the hospital about $15 million last year. Its billings brought in $13 million. The hospital ended up writing off another $4.6 million in uncollected E.R. payments.
"Emergency rooms don't make money," says Janice Early-Weas, director of community relations at LMH. "They're considered a vital community service. They're what hospitals do."
Almost half the people who used the emergency room last year had health insurance. Twenty percent were covered by Medicare.
"We see a lot of elderly," Robinson says.
They're why Sundays and Mondays tend to be the busiest days.
"What happens is that for whatever reason, they can't get in to see their doctor," he says. "They try to make it through the weekend, but they can't. So by Sunday afternoon or Monday morning, they're in the emergency room."
Sunday censuses also are driven by so-called lawnmower trauma - injuries suffered while working in the yard or on the house.
"Yeah, that's me," says Brent Ojanguren, who fell off a ladder painting his house in Baldwin. "I fell about 10 feet and then I fell down another 10 feet of stairs. It feels like I cracked a rib or something."
Actually, he cracked three vertebrae. A deep cut on the back of his head had to be stapled shut.
"I'm an idiot," Ojanguren says, laughing at his misfortune.
He praises the emergency room staff.
"I've been here two hours," he says, "and they've kept me well-informed. I've been well cared for."
'Some dude syndrome'
Saturday nights often are busy with young adults who've either passed out after too much alcohol or been in a bar fight.
"We call it the 'some dude syndrome,' as in 'I was just standing there and some dude hit me,'" Robinson says.
That's sort of what happened to 22-year-old Nick Huckabey, who drove to Lawrence from Overland Park to celebrate a friend's birthday at Abe & Jake's Landing, a popular night spot at 8 E. Eighth St.
"I was just hanging out," Huckabey says, "and this guy was getting beat up pretty bad - getting kicked in the head and stuff.
"There weren't any bouncers around, so I tried to stop it. The next thing I know, I got hit."
He lowers an ice pack to reveal a deep gash between his lip and nose.
"My whole face is numb right now," he says, letting a nurse know his anesthetic had taken effect.
Because Huckabey's lip, Robinson says, was cut "through and through," the on-call plastic surgeon, Dr. Lee Reussner, is called in to do the stitches.
It's now a little after 2 a.m. Sunday.
"If it were up to me, 'last call' would be midnight at the latest," Robinson says. "I can't think of a good reason for people to be drinking at two o'clock in the morning."
Some nights you don't soon forget:
Some memorably busy nights at the Lawrence Memorial Hospital emergency room:
¢ May 19, 2005
"The night (then-KU basketball player) J.R. Giddens was stabbed stands out," emergency department director Dr. Scott Robinson said, referring to the altercation at the now-closed Moon Bar, 821 Iowa. "J.R. suffered a pretty serious injury," Robinson said, "but people tend to forget that one of the other victims was in here with his intestines hanging out."
¢ Aug. 28, 2002
After stabbing his 11-year-old developmentally disabled son and leaving him to die on the Kansas Turnpike, a Missouri man, Raymond Boothe, crashed his car in Lawrence in an apparent suicide attempt while his three children were asleep in the back seat. "We had three kids in here who'd been in a potentially fatal car accident," Robinson said. "And then, in another room, we had their father who was, let's say, unstable." Boothe, he said, became belligerent. "He had a policeman down on the floor," Robinson said. "We had a security officer at the time who had a black belt in karate. He ended up on the floor, too."
¢ Oct. 7, 2005
"The Boardwalk Apartments fire - we had a lot of orthopedics that night," Robinson said, referring to injuries caused by tenants jumping out windows or off balconies. "We were plenty busy that night before the fire," he said.
¢ Dec. 25, 2005
"We had five intubations, right in a row," said Jessica Osburn, a registered nurse, referring to the delicate procedure of putting a tube down a patient's throat to keep the patient breathing. Two or three intubations is typical. Five in one night is unheard of. "Holidays are stressful," Robinson explained. "They push our emotional and physiological reserves to the max, and when those reserves are spent, underlying diseases take over. I'm convinced of that."
Copyright 2017 The Lawrence Journal-World. All rights reserved. This material may not be published, broadcast, rewritten or redistributed. We strive to uphold our values for every story published.