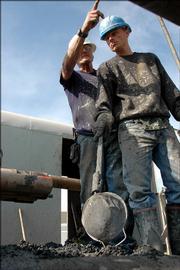 There's oil in them hills, and John Herrick has spent years getting at it.
And for oil prospectors and wildcatters near the Wellsville area, the last few years of high prices at gas pumps and short supply elsewhere have allowed Kansas oil men and women to rake in the cash at a level unseen in decades.
"Really, they've been real good right now," Herrick said. "We're catching up for years when we were selling for nine or 10 bucks (a barrel)."
Herrick pumps crude from about 75 holes in northeastern Kansas, some in the oil fields near Wellsville. And like many drillers here, Herrick has pumped money not only into his pocket, but into the state economy.
Since gas prices began to climb after 9-11, the rejuvenated Kansas oil market has boomed. According to a 2006 Kansas Energy Commission report, Kansas will produce nearly $4.6 billion in oil and material this year, much of which will be sold to and from local suppliers.
That number is up more than 100 percent since 2002, when the state produced $2.1 billion, according to the report.
All of the growth means individual drillers can actually afford to focus on pulling oil from the ground, rather than drilling part-time while earning a living at other work.
Herrick said that he's pulling in close to $60 a barrel now, which means two or three barrels a day can pay for the cost of drilling.
Still, some successful prospectors know that the party won't last long. Lester Town, a prospector from Paola, said that high gas prices have fueled more drilling in the area, but the rate of use in the U.S. and elsewhere promises that drillers the world over won't be able to keep up.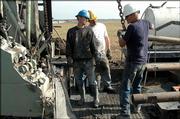 When oil use can't keep up with oil production - called "Peak Oil" - oil will slowly cease being a viable fuel.
"Once we hit that," Towns said, "we're going to start going back the other way."
The other way means that even oil-filled reserves in Kansas may not be worth drilling as the world has to turn away from traditional fuels like oil and natural gas.
But few have turned away yet. According to a U.S. Energy Information Administration report, the world demand for oil stood at 78 million barrels a day in 2002, and only a sliver of the millions of new cars rolling off of assembly lines will use alternative fuels.
So even the relatively shallow oil fields in eastern Kansas have lit prospectors eyes with dollar signs. According to Dave Williams of the Kansas Corporation Commission, drilling permits have skyrocketed in the last year or so.
According to the commission's statistics, permit applications spiked from 187 in January 2004 to 408 the same month this year. The totals for March have already surpassed those last year.
"Drilling is at its highest since way back when," said Tim Carr, a geologist with the Kansas Geological Survey. "With permits, we're pretty much maxed out."
And although Herrick attests that oil reserves have been slowly drying up, Kansas has plenty more to find and pull from the earth, Carr said.
The growth is somewhat surprising, Carr said. Not only is more raw crude being pulled from the area, but gas production is also on the rise - something that is fairly uncommon, he said.
Still, Wellsville isn't exactly an oil hotspot, Carr said. While Americans use tens of millions of barrels of oil a day, oil fields in the area produce very little.
"They're lucky to start at a barrel and a half," Carr said of prospectors in the area.
But even at those levels, prospectors will keep drilling when oil companies are willing to pay high prices, Carr said.
As with everything, the drilling has a limit - a limit the Kansas Corporation Commission thinks it may have reached. Williams said that many rigs in Kansas have reached their capacity, leaving people with permits on waiting lists spanning for months and years.
"Right now, they're booked up quite a ways into the future," Williams said.
And although the long-term future for oil use is uncertain, even cautious prospector Town knows that the money is there to be made now, and people are going to go after it.
"We have these increased prices," Town said. "It makes the thing worth it."
Copyright 2018 The Lawrence Journal-World. All rights reserved. This material may not be published, broadcast, rewritten or redistributed. We strive to uphold our values for every story published.