A pile of records and musical instruments litter a room in the Kansas Audio-Reader Network office on the Kansas University campus.
"This is just the tip of the iceberg," said Peg Sampson, assistant development director.
Audio-Reader is ready to begin collecting albums and compact discs for its biggest fundraiser of the year, but there's a hitch. They don't have anywhere to put the stuff.
"We're really in kind of a hard spot," Sampson said.
Audio-Reader - a nonprofit reading and information service for blind and visually impaired people - spends all year planning for its annual "For Your Ears Only" fundraiser. This year's event is set for Sept. 22-23 at the Douglas County 4-H Fairgrounds.
The organization takes in donated records, CDs, DVDs, videos, musical instruments and stereo equipment, and sells the items at reduced cost.
The event raises about $10,000 annually to support Audio-Reader's operations.
For several years, Audio-Reader used borrowed space at an apartment complex to house the thousands of items in preparation for the fundraiser. Volunteers spend the year cleaning and organizing the items and categorizing music by genre.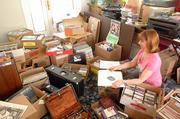 But when the apartment complex space had to be converted for other use, the organization was left without a home for its donated items. With a room at the Audio-Reader headquarters already filling up and several volunteers storing items at their homes, Audio-Reader has been forced to halt its collection.
Sampson said she has a list of people who want to donate items, but she can't take them because she doesn't have space.
"If I have to turn away items, I'm not very hopeful of how the sale is going to go," she said.
Sampson has called area developers and commercial real estate agents looking for a big space, but hasn't turned up anything.
"We just haven't been able to ignite the imagination of somebody who's able to help us," she said. "Everybody is just squeezed."
Got room?
To help Kansas Audio-Reader Network find a home for its donated goods as volunteers plan for this year's "For Your Ears Only" fundraiser, contact Peg Sampson at 864-2686 or psampson@ku.edu.
Sampson said she never would have predicted the search for a donated site would be this difficult. The organization is looking for a large site of at least 800 square feet that's climate-controlled and secured. Because the space would hold thousands of records and CDs, Sampson is looking for first-floor space or a site accessible with an elevator.
Sampson said she's optimistic they'll find one.
Meanwhile, volunteers such as Jim Claussen are holding on to the donated goods. Claussen said his two-car garage is stuffed with two cars, yard tools and boxes of records. He put the records on a dolly to make them easy to move when he needs to reach his tools. Claussen has tried to help by also looking for space, but to no avail.
"We'll get it solved," he said.
Copyright 2018 The Lawrence Journal-World. All rights reserved. This material may not be published, broadcast, rewritten or redistributed. We strive to uphold our values for every story published.