For Free State High School junior Anna Allen, it's yellow, poofy and fit for a princess.
For Kelsey Starks, a senior at Lawrence High School, it's silky, hip-hugging and glows like a tangerine jewel.
And for Free State senior Emma Burgess-Olson, it's black and teal, tiered in taffeta ruffles and straight out of a Molly Ringwald movie.
It's the perfect prom dress.
Next to her wedding day, the annual high school dance may be the most important occasion in a girl's life for a stunning gown.
But what exactly constitutes perfection?
Well, that's as varied as the personalities, body types and fashion senses of the hundreds of belles of the ball preparing to attend Lawrence-area proms this year.
For Free State High School senior Emma Markley, it was love at first sight when she spotted her floor-length beaded gold gown at JC Penney.
"I just fell in love with that dress," she says. "It's like, OK, I have to have this one."
She admits she spent a little more than she usually pays for a dress - $130 - but she "kind of felt like splurging for prom."
Markley also put a little sweat equity into the frock. It was too big in a couple of places, so she took it to sewing class at Free State and altered it to fit like a glove.
That's a common strategy for prom-going gals, says Free State sewing teacher Gail Padden. She remembers the year a distressed student showed up at her doorstep, unannounced, with her mother in tow, wanting her to fix the sheer tie on her dress before the big evening.
Photo Gallery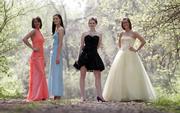 Prom fashion
"All the girls have been talking nonstop about prom dresses - where to go, where they've been, trying them on and discussing prices," Padden says. "The prom dress is really important to kids because it's a dressy dress - and girls still love dresses."
The atmosphere has been similar at Lawrence High School, where, according to sewing teacher Shannon Wilson, the juniors and seniors have set up a prom-dress exchange to get more mileage out of gorgeous gowns that often get worn only once.
Emma Burgess-Olson subscribes to the thrift theory. She figures it doesn't make much sense to fork over hundreds of dollars on a dress that might only get one wear - and that might not be a one-of-a-kind on prom night.
She eliminated the duplication chance by snatching up a throwback garment last summer at Wild Man Vintage, 939 Mass. The totally '80s dress has a heart-shaped, strapless bodice in black velvet that descends into a V-waistline and a knee-length teal taffeta skirt with poofy ruffles.
The damage: $15.
"It's perfect," Burgess-Olson says. "I really don't like what they sell in stores. I'm not much of a department store girl.
"(My outfit is) exciting and different enough that I think it's a good prom dress."
Although Kelsey Starks often shops at thrift stores and pieces together creative outfits, she wasn't planning on attending prom until very recently - leaving little time to make anything original.
"I just went and shopped around and found what I liked," she says. "It's very classy and up-to-date."
Starks' gown, purchased at Cache in the Oak Park Mall in Overland Park, sports a sheer halter top over a floor-length orange gown that clings most of the way down before flaring slightly at the bottom. A wavy wisp of material gathered in a diamond broach forms a small train in the back.
Starks noticed while shopping that bright, spring colors seem to be predominating this year's prom fashions. Emma Markley saw tons of yellow on the racks, and everyone agreed that strapless styles are definitely in vogue.
As for the boys, well, prom night's really not about the boys, says Free State senior Dan Smith, who will be attending the dance with his girlfriend, Burgess-Olson.
Smith is waffling between hunting down a vintage suit from a specialty or thrift shop and renting a more standard tuxedo.
"If I'm going to rent a tux, I'm going to try to coordinate with her color scheme," he says of Burgess-Olson's black-and-teal getup. "I would get, like, a teal pocket square."
But alas, he concedes, he'll be the supporting act, whatever he wears.
"Each girl gets to pick out her own dress and make her own statement," he says. "I'd say prom is definitely much more of an opportunity for girls to say something."
Here are some tips, from promadvice.com, for picking up a prom dress on the cheap:
¢ Thrift stores: Secondhand stores like the Salvation Army are a great place to find accessories such as vintage handbags, glamorous shoes and even slightly used dresses with lots of potential. Plus, you'll have something unique.
¢ Cleaning out the closet: Don't forget grandparents, parents and various aunts and uncles. Ask them for a tour of their closet - keep an eye out for vintage clothing and accessories - and don't forget jewelry boxes. Your grandmother may have a pair of earrings or a cocktail ring that would look swell with your dress.
¢ Sew, what?: Dreaming of the perfect dress but know it's beyond your budget? Why not make it? If you haven't sewn before, ask a friend or relative who sews to help you.
Copyright 2018 The Lawrence Journal-World. All rights reserved. This material may not be published, broadcast, rewritten or redistributed. We strive to uphold our values for every story published.