Jason Hamlin isn't much of a dancer.
Hip-hop music hardly makes him want to bust a move. He doesn't stand in line to dance when he hears country music. And polka music doesn't spur him to do the chicken dance.
So Hamlin, a senior at Eudora High School, will attend his school's prom, not in a Fred Astaire tuxedo, but as a pirate.
"I can't dance if my life depends on it," Hamlin said. "But I like going, and I decided it would be fun to go as pirate."
Hamlin likely will be in the minority. Formal attire is still expected to predominate among teens the next several weekends as prom season hits full swing.
Clothing stores and beauty salons already are seeing signs.
"Unless someone cancels, we have no openings for the next three Saturdays," said Kate Wyatt, manager of Beauty Brands Salon Spa Superstore, 3514 Clinton Parkway. "We're just completely booked, and we know it's because of prom."
Dressing the part
Hamlin went to prom last year dressed in a '70s leisure suit and fake sideburns. This year, he and his cousin bought material for pirate costumes. They soaked white cloth in tea to give it an aged and dirty look, Hamlin said.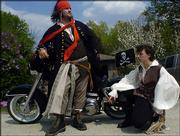 Plans also are in motion to make a car look like a pirate ship. That may or may not work out, Hamlin said. But it doesn't matter.
"Prom is a time to get together with all my friends and just have fun," he said. "And you kind of make fools out of yourself and have a good time."
While Hamlin will go as a pirate, 44 percent of boys attending prom will wear a traditional tuxedo. That's based on the national Shopping in America survey completed by August Partners Inc. Guys also estimate that they will spend about $455 on prom night, with about $152.45 going toward their prom outfit and the rest for tickets, dinner and transportation, according to the survey.
Girls, on the other hand, will spend $379 on average for prom expenses, according to the shopping survey. Of that amount, about $190 will be paid for a prom dress.
Many girls interviewed said they bought their prom dress at least a month ago.
"I probably got mine back in January," said Kylie Wiscombe, a junior at Santa Fe Trail High School in Carbondale. "That's the biggest thing. You get your dress, and you try to do it way before prom. Then you talk about it a lot because people want to make sure no one else has the same dress."
In Wiscombe's case, her dress is strapless and gold. She found it at the mall in Topeka. But Wiscombe said she wasn't concerned that other girls would have the same dress at the Santa Fe Trail prom, which was Saturday in Topeka.
Look good, have fun
In the last week, prom has been a key topic of discussion for many students at Eudora High School.
"It's definitely a big deal," junior Laci Moore said. "It's a one-night deal where you get to look your best and for one night you dance and have fun and party with all your friends."
Members of the junior class at Eudora began meeting several months ago to select a theme and decorations for their prom.
Prom themes for both Santa Fe Trail and Eudora centered on the city of lights -- Paris.
For assistance transforming the school commons into a facsimile of Paris, students went to Lawrence-based Balloons-N-More.
"It's an incredibly busy time of the year," Balloons-N-More owner Debbie Payne said. "We help with proms here in Lawrence, Kansas City and Eudora. We built a huge Eiffel Tower for Eudora's prom."
The company usually provides balloons, tablecloths and canopies for area school proms, Payne said. The price tag can range from $1,500 to $8,000 per prom, she said.
"It's going to cost more for larger schools," she said. "Once we're done with prom, we move into helping with graduations."
The following are the times and dates of proms for area schools.FridayMcLouth High School -- 7 p.m. at Alvamar Country Club in Lawrence.SaturdayEudora High School -- 9 p.m. to midnight at Eudora High School.Baldwin High School -- 8 p.m. to 11 p.m. at the Lawrence Arts Center.Oskaloosa High School -- 7 p.m. in the Oskaloosa Middle School gym.Basehor-Linwood High School -- 8 p.m. to 11 p.m. Falcon Lakes Clubhouse.April 30Lawrence High School -- 9 p.m.-1 a.m. at the Kansas University Ballroom.Bishop Seabury Academy -- 8 p.m.-11 p.m. at Liberty Hall.Wellsville High School -- 6 p.m. at Wellsville High School.Ottawa High School -- 7:30 p.m. at Ottawa High School.May 7Free State High School -- 9 p.m. to 1 a.m. at Abe and Jake's.Perry-Lecompton High School -- 8 p.m. to 11 p.m., then after-prom until 3 a.m. at Capitol Plaza, near Topeka's Expocentre.Last SaturdayTonganoxie High School --in the ballroom at Fort Leavenworth.
Copyright 2018 The Lawrence Journal-World. All rights reserved. This material may not be published, broadcast, rewritten or redistributed. We strive to uphold our values for every story published.