Los Angeles — Several thousand people - many of them students - marched Saturday through downtown Los Angeles to protest federal legislation that would crack down on illegal immigration.
Organizers of the march dedicated the event to Anthony Soltero, an Ontario, Calif., teenager whose mother says he killed himself after a vice principal allegedly told him he would be sent to jail for missing class to take part in an immigration rights march. Officials of the Ontario-Montclair school district said they have found "no corroborating evidence" that the boy was threatened with prison.
Members of the 14-year-old's family carried placards with his photo as they helped lead the march to a rally on City Hall's south lawn. "Continue the Struggle in Anthony's Name," the signs read.
That lent a somber note to a generally upbeat event. Police said they made no arrests nor received reports of problems.
Organizers, many of them high school or college students, urged protesters to express their objections to legislation proposed by Rep. F. James Sensenbrenner Jr., R-Wis., that would make illegal residency in the U.S. a felony and punish those who employ or help illegal immigrants.
Marcher Bryan Nupia, 15, a student at Franklin High School in Los Angeles, said he attended the protest hoping it would dissuade Congress from cracking down on illegal immigration.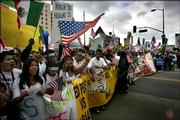 "I hope it will change some things," Nupia said. "Immigrants made this country."
Several speakers at the post-parade rally urged support for a planned May 1 boycott of stores, workplaces and schools to show immigrant power and solidarity.
Organizers also passed out leaflets advertising the boycott.
State Sen. Gloria Romero, while not telling students to cut classes that day, said she and state Sen. Gil Cedillo, D-Los Angeles, will introduce a resolution this week acknowledging boycotts as a strong American tradition and recognizing the contributions of immigrants.
"Today we march, May 1 we boycott, and tomorrow we register to vote," Romero told the crowd.
Copyright 2018 The Lawrence Journal-World. All rights reserved. This material may not be published, broadcast, rewritten or redistributed. We strive to uphold our values for every story published.