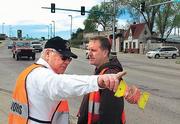 The ride into North Lawrence is about to get smoother.
City Hall said that crews would begin working Monday on a temporary repair to the bump that rattles northbound drivers at the intersection of North Second and Locust streets, in front of Johnny's Tavern.
State officials said construction on a permanent fix could begin by the end of the year.
The news comes a week after a special-needs teen was injured in an accident apparently caused by the bump.
"I think it should've been done a long time ago," said Reba Baker, the grandmother of 15-year-old Billy Baker. "They've fixed just about everything else in town; they should've fixed that."
Billy, who is autistic and legally blind, was walking along the east side of the road with his father shortly before noon April 1 when a trailer attached to a Toyota sport utility vehicle detached, came onto the sidewalk and struck him.
The boy's grandfather, Coye Baker, had threatened to block the intersection today if repairs weren't made. He was unavailable for comment Friday while visiting Children's Mercy Hospital in Kansas City, Mo., where Billy was undergoing skin-graft surgery on his injured right leg.
"I really think he's doing as good as possible," Reba Baker said of her grandson.
City crews were seen scouting the intersection Friday morning. Reba Baker said that Chuck Soules, the city's Public Works director, had told her that workers would smooth the bump with asphalt.
Soules did not return calls seeking comment, but a city news release stated that starting at 9 a.m. Monday, northbound traffic would be re-routed onto Elm Street while the repair is under way. The fix should be complete by 6 p.m. Tuesday.
City and state officials had said a full-scale renovation of the intersection wouldn't happen until October 2007, but Joe Blubaugh, a spokesman for the Kansas Department of Transportation, said the project could be put up for bid by the end of the year and construction could possibly begin soon after.
"That's our goal," he said.
Blubaugh said that City Hall had asked for the speedier schedule.
"We have absolutely no problem doing that," he said.
Mayor Mike Amyx said the city was ready to pay its 20 percent of the $1.75 million cost of the project, even a year ahead of schedule.
"I think it's something that we've obviously had as a priority," Amyx said, "and I think if KDOT's willing to move it up on their priority list, we should do it."
Intersection of North Second and Locust
Copyright 2018 The Lawrence Journal-World. All rights reserved. This material may not be published, broadcast, rewritten or redistributed. We strive to uphold our values for every story published.