Coye Baker is fed up with the bump in the road.
Baker, the grandfather of a special-needs teenager who was struck this weekend by a trailer that hopped the curb near a notorious road bump on North Second Street, said he's willing to take drastic measures to get the city's attention. He plans a protest at the scene of the wreck on Saturday morning.
"If I have to, I'm gonna take my car in the middle of the street and tie a rope across so no one can get through," said Baker, 81. "I hope it'll get somebody's attention before somebody else gets hurt or killed."
Baker said his grandson, 15-year-old Billy Baker, was recuperating Wednesday at Children's Mercy Hospital in Kansas City, Mo., and was preparing to undergo a skin graft. Billy, who is autistic and legally blind, was walking along the east side of the road with his father shortly before noon Saturday when a trailer attached to a Toyota sport utility vehicle came onto the sidewalk and struck him.
The trailer would have just passed a bump in the road a few feet to the south that residents say is unsafe and has been neglected for too long. But so far there is no official word from police on what caused the wreck, nor whether the driver of the truck, Lawrence resident John Olmstead, would be cited.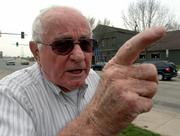 "It throwed him about 15 foot," said Doug Baker, Billy's father, who was walking with him at the time. "His little legs got caught up underneath the trailer ... It's the worst thing you'd want to see happen to one of your children."
Billy's right leg was seriously injured, and Doug Baker said doctors were still working Wednesday to save it.
At the time of the wreck, the two were walking toward downtown, where they planned to take a round-trip ride on a Lawrence Transit System bus.
Coye Baker, who has raised his grandson since the boy was 1, said he not only wants the city to fix the bump promptly, he wants the city to extend a nearby guardrail that runs along North Second Street so that it would reach the intersection with Locust Street.
Billy was struck while walking in an area where there was no guardrail.
Coye Baker wants work on the road bump to begin immediately.
"It needs to be started on today, not tomorrow," he said. "It should have been started on 10 years ago."
As it now stands, the bump is not scheduled to be fixed until October 2007. The city and the Kansas Department of Transportation plan a $2 million renovation of the intersection, with the state paying 80 percent.
It may be difficult to move it up on the schedule, said Chuck Soules, the city's director of public works.
"I've had discussions with KDOT, but right now we don't even have a preliminary design yet," Soules said. "Can we do better than the October deadline? Possibly. But the state also has the issue of where they scheduled it in their funding mechanism."
In the meantime, he said, the city is looking at possible temporary fixes, such as signs, speed changes or changes to the pavement.
Soules said that a revamped intersection probably would have a sidewalk that sits farther from the edge of the curb - something that might resolve pedestrian-safety concerns in lieu of a guardrail.
Intersection of North Second and Locust
Coye Baker also said Wednesday that he was upset that police officers at the scene restrained him when he tried to get close to his injured grandson. He showed bruises that he said were the result of three officers grabbing and maneuvering his arms.
"He has brought that to our attention," said Sgt. Dan Ward, a Lawrence Police spokesman. "It's very emotional and confusing at the time when you have something like this happen ... We encourage feedback from citizens, and we're looking into it to see if things were done the way they should have been."
As for the grandfather's plan to protest in the roadway, Ward said police support protests as long as they're done lawfully. To block a city right-of-way, you must have a permit beforehand, he said.
"We don't want anybody to be injured - the protesters or anyone else," he said. "We don't want more tragedy."
Billy's fund
The family of Billy Baker has set up a donation fund in his name at both Lawrence First State Bank locations. Billy suffered severe injuries when a trailer struck him this weekend. Steve Stemmerman, Billy's teacher at Central Junior High School, helped to set up the fund and said that he had already received some donations from fellow teachers. People who want to donate can drop off any donations at the bank, or can send mail to P.O. Box 701 in Lawrence, Stemmerman said.
Copyright 2018 The Lawrence Journal-World. All rights reserved. This material may not be published, broadcast, rewritten or redistributed. We strive to uphold our values for every story published.