New York — Already flashing signs of an easy rapport with Matt Lauer four months after their first "blind date," Meredith Vieira was introduced Thursday as his future "Today" show partner.
NBC moved swiftly to get Vieira, 52, in place one day after Katie Couric announced she was taking a job as "CBS Evening News" anchor. It's the first on-air personnel change in a decade on television's dominant morning program.
Vieira has spent the past nine years on the daytime chat show "The View" but also has an extensive news background, including a stint on "60 Minutes."
"If you were building a morning-show host from scratch, she would be the prototype," said Jeff Zucker, chief executive officer of the NBC Universal Television Group. "She has the perfect combination of news background and talk background. She's got intelligence, grace, humor and those are the qualities you look for when you're trying to fill this role."
Zucker began his courtship of Vieira in October, when he called and asked to give her a ride from "The View" studio to where she was taping shows as host of "Who Wants to Be a Millionaire." It's normally a three-minute ride on Manhattan's upper West Side.
Zucker showed up in a black sport utility vehicle with tinted windows. Aware that Couric was considering leaving, he asked Vieira to think about whether she wanted to get into morning television.
She met Lauer at his apartment for dinner in December. "It was like going out on a blind date and finding out you really like the guy," she said.
With chemistry as important as ability on morning TV, Lauer and Vieira tried to display it at Thursday's news conference announcing their pairing, which will begin in September. He flashed mock anger when Vieira interrupted one of his stories.
"Can I tell the story?" he said. "Is this going to happen? I've been going through 10 years of this."
Serious negotiations to join "Today" began a few weeks ago. Vieira, who has turned down morning-show overtures at other networks in the past, said she discussed it with her family and decided to go ahead. She's married to writer Richard Cohen and has three children: Ben, 17; Gabrielle, 15; and Lily, 13.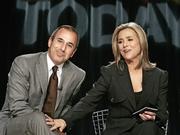 She was worried about not being at breakfast with her family, but Ben told her that all she'd miss were her children fighting, anyway.
Vieira decided it was an opportunity that she couldn't pass up. Published reports say NBC offered a four-year contract paying her at least $10 million a year, but that could not be independently confirmed.
"If my career ended at the 'Today' show, then it would be ending at the top," she said.
She also said she told Zucker that "I really thought you were going to go a little younger." But NBC is sensitive about the age issue after many viewers felt Jane Pauley was pushed out for a younger woman in Deborah Norville years ago. Norville was dumped for Couric, who started in April 1991.
NBC chose Vieira over several internal candidates, including weekend "Today" anchor Campbell Brown, newswoman Natalie Morales and "Today" newsreader Ann Curry. Brown and Morales had subbed for Couric on "Today" while she was on vacation at the end of last month.
Vieira said she expects to leave "The View" at the end of May.
Her departure leaves a void there, where Vieira is one of five hosts nominated for a Daytime Emmy. She offered a tearful announcement of her new plans on that show Thursday. Show creator Barbara Walters said "The View" would continue with the same format.
Vieira was in an awkward position with Walters, a television news legend who once worked at "Today" but is also protective of her lucrative daytime talk show. She said she didn't go to Walters for advice before making her decision.
"She called me at 6 a.m. yesterday and said, 'You know what, if you had asked me, I would have told you to go,"' Vieira said.
Copyright 2018 The Associated Press. All rights reserved. This material may not be published, broadcast, rewritten or redistributed. We strive to uphold our values for every story published.