One tipped-over candle is all it would take to wipe out more than 100 years of Lawrence history.
That's something to think about, Fire Marshal Rich Barr says, as city commissioners this summer discuss whether to spend public money to help downtown businesses install sprinkler systems.
"You could lose a lot of historic structures with just one fire," Barr said. "You might be able to rebuild, but they won't look the same."
City commissioners on Thursday said they were well aware of that. At a study session to discuss the 2007 city budget, commissioners said they wanted to consider adding a program that would rebate at least a portion of a business' cost to install a sprinkler system, which often can be around $20,000 for a typical downtown building.
Several commissioners on Thursday admitted having fears that a fire could start in one downtown building and spread to neighboring structures - many of them built in the mid-1800s - much like happened during a fire last year in Fort Scott. That fire destroyed about 10 buildings and significantly damaged at least another five.
Such a fire in Lawrence would wipe out history and a significant portion of the city's retail trade industry, Commissioner Sue Hack said.
"If something like that happens here, we are in terrible trouble," Hack said.
The program that Interim City Manager David Corliss is proposing still lacks key details, but its premise is simple. Commissioners would start setting aside money to fund a rebate program for downtown building owners who install a sprinkler system.
What percentage of the total cost should be rebated, what guidelines a business would have to meet and how much money the city would set aside each year all would need to be determined.
The basic idea, though, sounded appealing to downtown business owners.
Clay Belcher, an owner of Signs of Life, already has a sprinkler system in his building at 722 Mass. He said he wouldn't have a problem with the city stepping in to help some building owners who haven't been able to install sprinklers.
The unique role that downtown plays in the community justifies the public investment, he said.
"I think it is a legitimate concern for government," Belcher said.
Jim Connelly - an owner of Silver Works, which is housed in an 1866 building at 715 Mass. that does not have a sprinkler system - said the cost of installing sprinklers was certainly the No. 1 reason most buildings didn't have them.
"I think we all want to do it, if we can just figure out how to do it," Connelly said.
Barr said it was probably unrealistic for many of the mom-and-pop businesses to come up with a financial solution on their own anytime soon.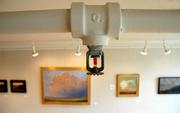 As an example, Barr pointed out what happened after the 1997 fire that gutted the Sunflower Outdoor & Bike Shop in the 800 block of Massachusetts Street. Firefighters continue to say they were fortunate that the blaze didn't spread to adjacent buildings.
And Barr said every building on the east side of that block was affected by the fire either through smoke or water damage. Despite the fire, none of the buildings in the block - except Sunflower - has installed sprinkler systems, Barr said.
In fact, no block along Massachusetts Street downtown has more than four buildings that are fully sprinkled, according to a map compiled by city fire leaders.
Whether the new program is a slam-dunk for the 2007 budget is undetermined. It likely will have to compete against large-ticket items such as more funding for streets, sewer projects, homeless services and a long list of other ideas that continues to grow.
And the idea of mandating downtown businesses to install fire sprinklers didn't gain much traction Thursday, although the city has the legal authority to do it.
"I don't think we can look at a mandate at all," said Mayor Mike Amyx, who owns a downtown barbershop that lacks sprinklers. "We would have to look at all the financial impacts that would really have on our downtown businesses."
The city only mandates downtown building owners install sprinkler systems when they do large-scale renovations, and then only if the buildings meet certain size requirements.
Copyright 2018 The Lawrence Journal-World. All rights reserved. This material may not be published, broadcast, rewritten or redistributed. We strive to uphold our values for every story published.