The day may soon be coming when every new apartment in Lawrence will have a fire sprinkler system, but city fire officials probably won't push to retrofit older apartments with the devices.
Lawrence-Douglas County Fire Marshal Rich Barr said the city's Fire Code Board of Appeals next month should begin reviewing a new fire code that would require sprinklers for every newly constructed apartment building - any building containing more than two units - regardless of its size or location.
"If you want to save people from fire, sprinklers are the best way to do it," said Barr, who said the code review was planned before an October fire in the Boardwalk Apartments that left three residents dead.
But requiring every apartment building, new or old, to have fire sprinklers is easier said than done, Barr said.
It took more than a decade of lobbying to require all of then 39 fraternities and sororities in Lawrence to retrofit their buildings with sprinkler systems. Barr said his department was successful in winning that change in 1993 after showing that one-third of all the fraternity and sorority houses in Lawrence were suffering a major fire every 10 years.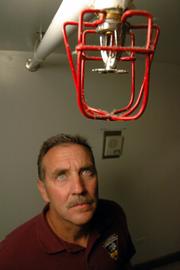 Barr said he was looking for information on the fire rate at Lawrence apartments, but he knew it would not be that high.
"I would love to retrofit every apartment in this town with fire sprinklers," Barr said. "But I'll have to provide statistical data to justify it, and right now I'm not sure I've landed upon it."
Landlords oppose
The Boardwalk Apartment complex did not have sprinklers and was not required to because it was built in the late 1960s, before the city's fire codes made any provisions for sprinkler systems.
Barr said any effort to require older apartments to be retrofitted with sprinklers likely would draw strong opposition from landlords.
Bob Ebey, a member of the board of Landlords of Lawrence, said the costs associated with installing the systems in older buildings would be prohibitive. Costs to install systems in new construction are about $1.50 per square foot, but Barr conceded that price could easily double in a retrofit situation.
Ebey said prices could rise higher if the project involved removing asbestos or encountered other difficulties associated with older buildings.
Many times the pipes must be left exposed and detract from the aesthetics of an apartment, Ebey said.
But Barr said he thought requiring every new apartment building to have a fire sprinkler would be a major improvement because the current code - approved in the late 1980s - does have flaws. Current codes require a fire sprinkler only if the apartment building is at least three stories high or has 16 or more dwelling units.
Plus, builders can get around the three-story requirement by building the bottom floor halfway into the ground. That's counted as a basement and not a story.
Boardwalk Apartments Fire
More on the Boardwalk Apartments Fire
"But I can assure you that the person looking out of the top-floor window of one of those buildings doesn't feel like they are getting ready to jump out of a second-story window," Barr said.
Marketing tool
Ebey said he did not expect strong opposition from landlords if the codes are written to only require sprinklers for all newly constructed apartments.
"I don't have any problem with that," Ebey said. "It is like putting in smoke detectors. If we can do it, we should do it to protect the safety of the residents."
Barr said that virtually all of the new, large apartment complexes in Lawrence already installed sprinklers as part of their construction. But he said many smaller triplex and fourplex apartment buildings didn't install them.
A new attitude, though, may be emerging following the Boardwalk fire. Ebey said he thought sprinkler systems in apartments could become a marketing tool to help rent an apartment to a prospective tenant.
"I think renters will start paying a lot more attention to that," Ebey said.
Barr said he knew that some people - the people who oftentimes pay the rent - already were.
"We get calls every year from parents asking whether their child's apartment is protected with sprinklers," Barr said. "When you see events like we have had, parents definitely start thinking about it."
Barr said the city's fire board likely would spend about a year reviewing the new International Fire Code - which addresses many other issues besides sprinklers - before adopting it. City commissioners will have to give final approval to the code before it takes effect.
Copyright 2018 The Lawrence Journal-World. All rights reserved. This material may not be published, broadcast, rewritten or redistributed. We strive to uphold our values for every story published.