It's enough to make your teeth hurt.
The practice of teeth drilling dates back at least 9,000 years, according to research co-authored by a Kansas University professor and published in the current issue of the journal Nature.
The prehistoric dentistry, though effective in producing round holes in teeth, came from crude methods long before Novocain.
"It must have hurt like hell," said David Frayer, KU anthropology professor. "My guess is if you tied anybody down and did this to them today it would be painful."
The findings indicate dentistry dates back at least 4,000 years earlier than previously believed.
"We had nine individuals that showed this pattern," Frayer said of the reported findings.
The scientists discovered 11 drilled holes in the teeth of nine skulls found in burial grounds in Pakistan. The teeth come from a site that is 7,500 to 9,000 years old.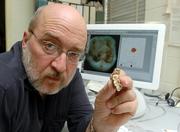 The scientists reconstructed a drilling method. The prehistoric "dentists" may have used bows with flint tips to bore the holes in the teeth. That process, when reconstructed and applied to a modern tooth, required less than one minute to produce similar holes.
"We're not advocating this is the way to drill holes in teeth," Frayer said.
The holes were found in the upper and lower jaws, in both men and women. All were adults, and some had evidence of tooth decay.
"It must have produced a lot of noise and a lot of heat," Frayer said. "They did this while the people were alive."
He said there was no remaining evidence of what may have filled the holes, which ranged in depth from 0.5 mm to 3.5 mm.
Scientists believe the "dentists" used the same technology for drilling teeth that was developed by skilled artisans for drilling holes in beads.
Copyright 2018 The Lawrence Journal-World. All rights reserved. This material may not be published, broadcast, rewritten or redistributed. We strive to uphold our values for every story published.